Trending:
Spectacular eggplant ring salad: how to prepare an original seasonal appetizer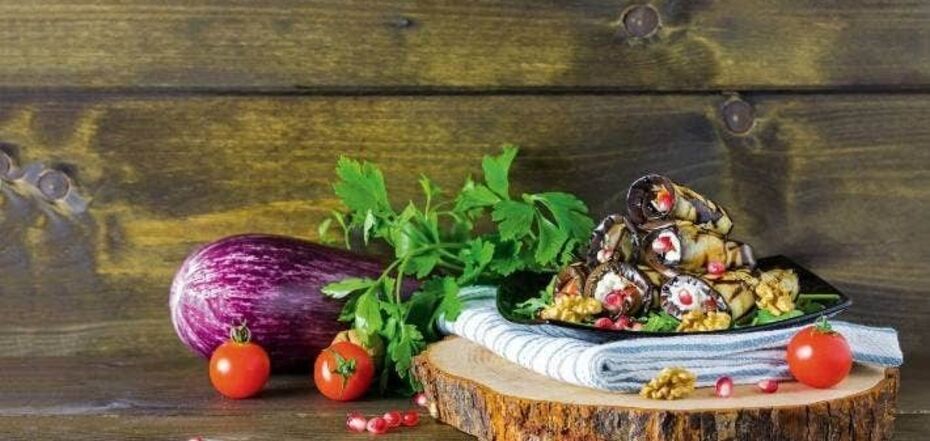 How to make a delicious eggplant salad. Source: stuff.co.nz
Fragrant and tasty eggplants are the perfect base for a spectacular seasonal ring salad. To form the dish, you will need an ordinary glass. The appetizer is very satisfying and will perfectly complement any festive table.
The idea for the Eggplant Ring salad was published on the Instagram page of food blogger Lyudmila with the nickname pani_gotuye. The dish is seasoned with mayonnaise.
Ingredients:
2 large eggplants
250-300 g of chicken thigh fillet or breast fillet
150 g of mushrooms
1 onion
50 g of walnuts
2 cloves of garlic
50 g of hard cheese
salt and pepper to taste
2-3 tbsp of mayonnaise
oil for frying
Method of preparation:
1. Boil the chicken in salted water until tender. Let cool and chop finely.
2. Finely chop the mushrooms and onions and fry in vegetable oil until tender.
3. Season with salt and pepper and let cool.
4. Cut the eggplant into thin slices lengthwise and fry in vegetable oil until soft, seasoning with salt.
5. Put the cooked eggplants on paper towels to absorb excess fat.
6. In a bowl, combine chicken, mushrooms and onions, add chopped nuts, garlic, mayonnaise, and mix. Add salt and pepper if necessary.
7. Place a glass in the center of a wide flat plate. Put the eggplant in a circle around it. Put the salad on top of the eggplant, also in a circle around the glass.
8. Then carefully remove the glass and wrap the salad with the eggplant tongues to form a ring. Decorate the center as desired. Dress the ring with mayonnaise and sprinkle with nuts. Put the finished salad in the refrigerator for several hours.
You can also find recipes on OBOZREVATEL: