Trending:
Sand cookies "Poleno" with raisins: recipe for home baking from your childhood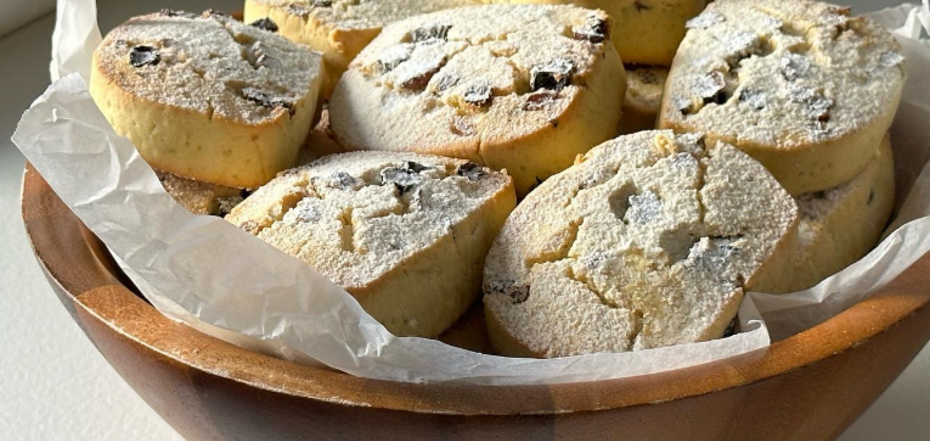 Sand cookies ''Poleno'' with raisins: recipe for home baking from your childhood
Polinocookies are home-made pastries that many people have known since childhood. The dessert is based on tender and crumbly shortbread dough and a raisin filling. The cookies are budget-friendly, affordable, you get quite a lot of them, and they will definitely please your family.
Food blogger Lilia(lileklilek2) shared a recipe for Polino raisin cookies on her Instagram page.
Ingredients:
butter - 200 g
sugar - 150 g
eggs - 2 pcs
sour cream - 1 tbsp
corn flour - 300 g
wheat flour - 300 g
baking powder - 0.5 tsp.
vanilla
salt
raisins - 150 g
Method of preparation:
1. Beat the butter at room temperature with sugar and a pinch of salt until fluffy.
2. Add the eggs and mix.
3. Add the sour cream and vanilla and mix again.
4. Keep mixing, add two types of flour and baking powder and knead the dough.
5. Add the raisins at the end. Stir to mix.
6. Form the dough into a sausage, wrap it in plastic wrap and leave it in the refrigerator until it cools completely. Wait for about 2 hours.
7. Cut the chilled dough into portions. Place on a baking sheet covered with parchment. Bake at 180-200 degrees for 25 minutes.
You can also find more recipes on OBOZREVATEL: