Trending:
Pappardelle, rolls and tender grilled duck: Ukrainian chefs talk about their favorite dishes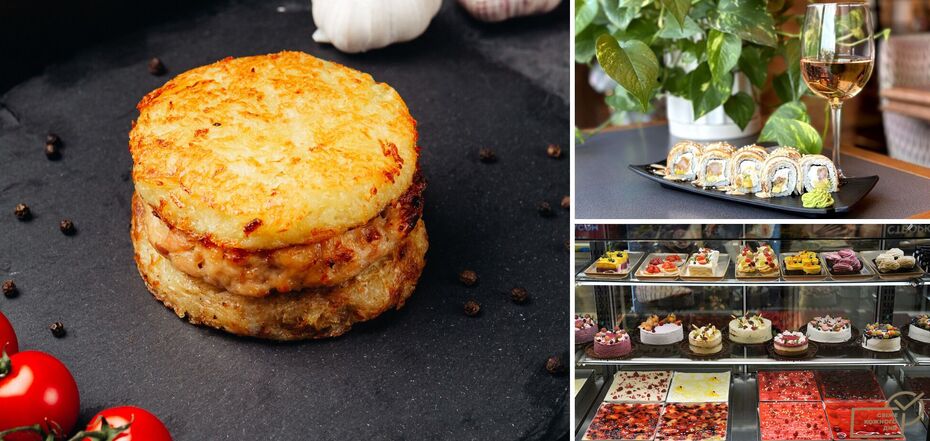 Pappardelle, rolls and tender grilled duck: Ukrainian chefs talk about their favorite dishes
Everyone has a favorite dish, and chefs and cooks are no exception. Moreover, chefs are the ones who know that every dish is not only about delicious ingredients, but also about a story.
On October 20, we celebrate the holiday of those who create these "stories on plates" for us - the International Day of the Chef and Culinary Specialist. That is why we asked representatives of the Ukrainian restaurant industry to tell us about their favorite dishes.
Alik Mkrtchyan and "Miasomarket" recommend "Ryabburger"
"Miasomarket" is MHP's universal market, which offers a wide range of fresh meat, marinades, spices and other related products. And for those who don't have time to cook but like to eat something tasty, there is ready-made cooking for every taste. The format is made unique by "meat sommeliers" - not just sellers, but real meat and cooking experts who will help you not only with the choice, but also advise you on how best to prepare a particular dish.
Alik Mkrtchyan, MHP's culinary expert, commercial director of its own retail, and author of more than 100 recipes that can be tried at Meat Markets, advises to try Ryabburger.
"My absolute pride is Ryabburger. It is a juicy combination of a tender cutlet and two potato pancakes. The first one is made from minced thigh and fillet. For extra tenderness, a brioche bun soaked in cream is added to it. This burger is great in terms of protein and carbohydrate combination. It's a full meal, not just a snack, because it actually includes a side dish of potato fries."Children are very fond of Ryabburger, and it's also very convenient to eat because its format resembles a burger with crispy pancakes instead of buns," says Alik.
"So far, the Ryabburger is the first and only dish whose recipe has been patented by MHP. According to Mkrtchyan, Ryabburger is a magnet product that attracts guests to "Miasomarket", and rightly so, as over the past six months, more than 10 thousand of them have been sold in Kyiv stores.
"So far, this burger is only available in stores in the capital, but we hope for its nationwide expansion. And it's better to wash down the Ryabburger with chacha," says Alik.
Eurasia restaurant chain recommends the signature Eurasia roll with crispy shrimp, smoked eel, mango and avocado
Eurasia restaurants have a wide range of rolls, so everyone can find a dish to their liking on the menu. But among the restaurant's favorites is the signature Eurasia roll, which was developed by the restaurant chain's brand chef Valery Sharov.
When Valery Sharov was developing the Eurasia roll, he set out to balance a variety of flavors in one dish.
"In the restaurants of our chain, we have developed a wide range of rolls, which helps everyone find something special to their taste .But despite the wide selection, my favorite has been the Eurasia roll for some time. It's a must-try, because this particular roll has a sophisticated combination of flavors: crispy tempura shrimp, juicy mango, ripe avocado, cream cheese, and smoked eel. The flavor is completed with aspicy sauce and weightless rice balls," explains Sharov.
The brand chef of Eurasia explains that when creating the dish, he set himself the goal of developing a roll that would embody the very philosophy of Eurasia - a variety of flavors that are balanced in one place.
Food-pairing is a complex story about harmonizing the flavors of products that can be combined to create completely new and surprising combinations. There is no perfect combination, just as there are no people with exactly the same taste. It is the same with Eurasia roll - it can be tasted with many drinks, both alcoholic and non-alcoholic, but Valery Sharov recommends this combination:
"I recommend pairing the Eurasia roll with G7 Merlot Rosé, a rosé wine that will appeal to both delicate ladies and brutal men. Why? It's just beautiful and will definitely emphasize the flavor characteristics of this roll. "Eurasia" has a complex, rich taste and white wine can be "lost" against its background, and with red wine you may not feel some subtle shades of taste. Therefore, rosé, which is something in between red and white wine, will be just right. It will emphasize the light minerality of the shrimp and the overall cheese flavor of the roll. I believe that this is a perfect symbiosis of drink and dish, which has become a favorite for many guests of Eurasia restaurants."
NOVUS online recommends home cooking from "Masters of Taste"
NOVUS believes that you can enjoy delicious dishes at a very reasonable price without leaving your home. That is why the NOVUS.online website has created a section with home-made dishes from Masters of Taste. Here you can find and order everything and even a little more - meat and fish dishes, side dishes, salads, desserts.
"NOVUS' ready-to-eat culinary offerings have long gone beyond standard olivier and vinaigrette. Our chefs prepare truly exquisite dishes for the festive table, as well as everyday dishes that can completely replace the home menu. This is important for people who have an active lifestyle and are unable to cook at home, but still love high-quality and home-style delicious food," the company explains.
The Masters of Taste menu offers more than 400 exclusive items of its own production. Everyone can find something delicious for themselves and order it with delivery.
"It's hard for us to choose just one item from the entire menu, so we decided to recommend dishes from different categories. So, for lunch and dinner, you can choose aMediterranean salad, smoked picolini sausages, Greek mackerel with tomatoes and feta, tender grilled duck in mustard and honey marinade, chopped steak with egg, chicken noodles with teriyaki sauce, homemade dumplings with cherries, or chilled Caesar pizza," NOVUS online shares its recommendations.
For those who want to have a sweet treat, the Masters of Taste recommend the Choco Berry cake, Esterhazy cake, cottage cheese and chocolate casserole, raspberry curd, or the PASSIONISTA donut with passion fruit filling and dark chocolate pieces.
"For a quick choice, we created the "What to eat?" section with ready-made menus from NOVUS.online: just choose the desired event and add a ready-made option from ready-made dishes and products to the cart.And voila! Our food delivery service NOVUS.online is aimed at making it possible to enjoy a restaurant-style meal from under the knife at home. And when ordering, you can write to the picker any wishes regarding the products and ready-made dishes: thinly cut salami, put the dishes in separate paper bags or pack them in portions. All collected orders are transported in protective boxes made in Germany with a special thermal insert, which ensures the integrity of the products. All our dishes are prepared only day by day, without any exceptions. And we bring wine to the table already chilled," the company says.
Papardelle with Transcarpathian porcini mushrooms from KALYNA confectionery and restaurant
The KALYNA confectionery and restaurant has been open since November 1995. Here you can taste not only classic, mousse and sponge cakes and pastries, poppy seed pie, cinnamon and custard cinnabons, ice cream, handmade Belgian chocolate candies, and gluten-free pastries and desserts. Recently, the menu also includes Italian dishes.
KALYNA advises to try the traditional Italian pappardelle with porcini mushrooms, which the restaurant orders from Transcarpathia. Papardelle is a type of fresca pasta that differs from others in its width.
"It is said that Transcarpathian mushrooms taste different from porcini mushrooms from other regions and are considered the most delicious. We use fresh and dried porcini mushrooms for our pasta. We use dried mushrooms to make an incredibly flavorful mushroom broth, and then combine the mushrooms themselves with fresh, also boiled, mushrooms. This gives the dish a richness of flavor and texture. The pasta also includes onions, dry white wine, which enriches and emphasizes the flavor of porcini mushrooms, and parsley, which adds not only color but also aroma. All the ingredients are united by cow cream, which gives a creamy velvety aftertaste," the restaurant says.
The chefs pay special attention to the pasta itself, which they make themselves.
"We use Italian flour of soft and hard varieties, olive oil and eggs, because the key to creating Italian pasta is fresca. We don't forget about parmesan, of course. We are sure that pappardelle is a very tasty and relevant dish in the fall. And the extravaganza of taste will be perfectly emphasized by a glass of white dry Ca`del Bosco," explain the KALYNA chefs.