Trending:
"Padded cabbage" comes from Transcarpathia: it makes a delicious lunch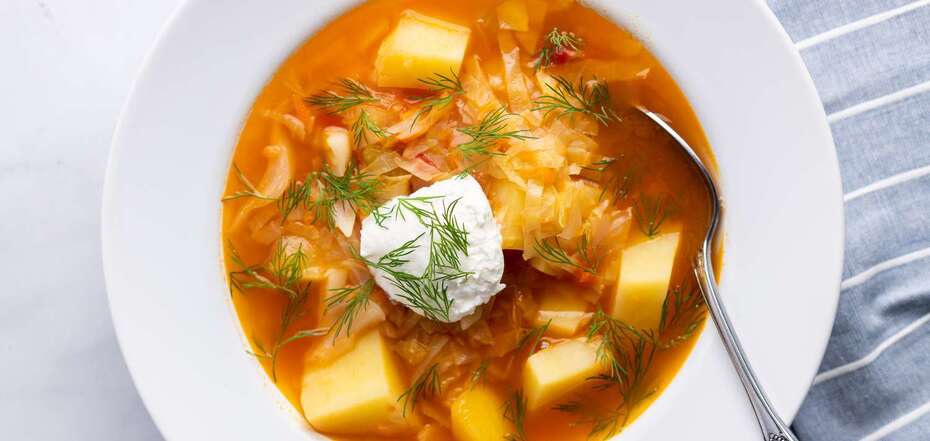 ''Padded cabbage'' for lunch . Source: thespruceeats.com
"Padded cabbage" is a rich vegetable soup that is most often prepared in Zakarpattia. It contains a lot of vegetables and herbs. Its consistency is quite thick. It is ideal for a hearty lunch.
The idea of cooking cabbage for lunch was published on the Instagram page of food blogger Eduard Nasirov (my_happyfood). During cold weather, this dish will be very appropriate if eaten hot.
Ingredients:
3 potatoes (dice)
1 onion (chop)
half of the cabbage
1 tbsp of oil
1 tsp. smoked paprika
2 tbsp of flour
1 liter of water
200 g of fatty sour cream
parsley/dill
salt and pepper - to taste
garlic clove - optional
Method of preparation:
1. Fry the onion and garlic in a heavy-bottomed saucepan.
2. Add flour and cook until light golden, stirring occasionally.
3. Add paprika and boiling water.
4. Add the potatoes and cabbage, cook after boiling, stirring occasionally for 12-15 minutes, until the potatoes are ready.
5. Add sour cream, stir and serve to the table, sprinkled with herbs.
You can also find recipes on OBOZ.UA: