Trending:
Original seasonal pumpkin gnocchi: easier to prepare than dumplings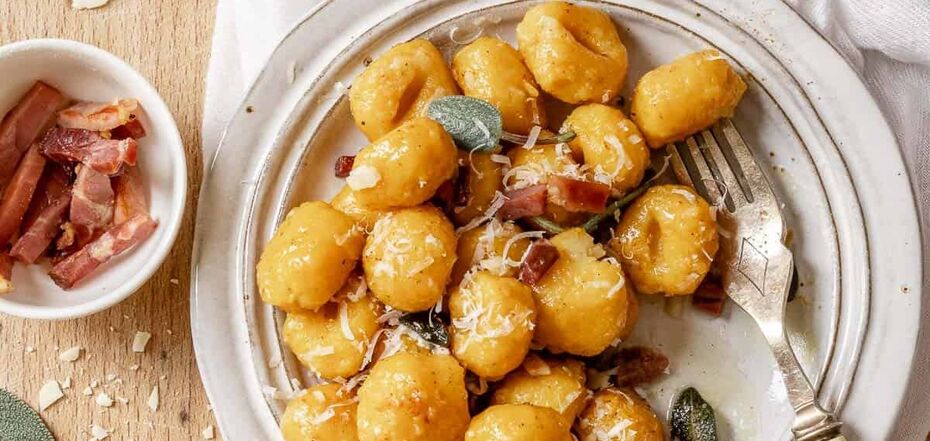 Pumpkin gnocchi instead of dumplings. Source: pastafantasy.com
While the pumpkin season is in full swing, you can make very healthy and simple gnocchi from it. Ordinary dumplings are made using a similar technology. But gnocchi are much simpler, because the dough just needs to be cut with a knife and boiled - you don't have to roll anything out.
The idea of making hearty pumpkin gnocchi with cheese was posted on the Instagram page of a food blogger named aleksa_litvish. The products have a pleasant sweetish flavor.
Ingredients:
pumpkin - 500-600 grams (cut into pieces, peel off the seeds, but leave the skin)
egg - 1 pc
ricotta - 100 grams
flour (can be from durum) 300 grams
Parmesan cheese 3 tbsp - 30 grams
salt/pepper - to taste
butter - 25 grams per serving
sage for flavor - optional
Method of preparation:
1. Bake the pumpkin at 190 degrees until soft (30-40 minutes). Peel off the skin easily. You need 300 grams of ready-made peeled pumpkin. You can also boil it, but the vegetable becomes very caramelized in the oven.
2. Blend the pumpkin into a puree with a blender.
3. Add the egg, ricotta, Parmesan, spices and flour.
4. Knead the dough to catch the exact moment: the dough is plastic, very soft, and does not stick to your hands. Pumpkin itself can have different water content, so adjust the consistency of the dough with flour.
5. Sprinkle the surface generously with flour. Divide the dough into 2-4 sausages. Cut into medallions with a knife and sprinkle with flour again.
6. Boil plenty of water, add salt.
7. Put the gnocchi in boiling water. Stir once with a spoon. If you have a small saucepan, cook in several portions; the gnocchi should float freely in the water.
8. After the products have risen to the top, cook for about 8 minutes.
9. Melt the butter in a frying pan, heat a few sage leaves in it, put a portion of gnocchi and heat everything together for 1-2 minutes.
10. You can grate Parmesan cheese on top.
You can also find more recipes on OBOZREVATEL: