Trending:
Original omelet with mussels that is ready in minutes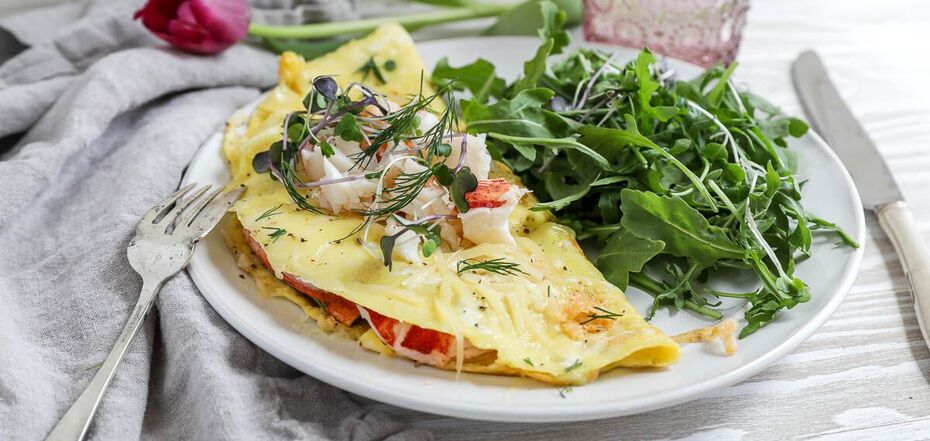 Recipe for an original omelet with mussels. Source: jennyshearawn.com
Simple classic scrambled eggs, to which everyone often adds sausage or bacon, can be made much more delicious. To do this, add mussels to the dish. Seafood can be simply stewed in a frying pan. Creamed corn is also a great addition.
The idea of cooking an original omelet with mussels was published on the Instagram page of a food blogger with the nickname aleksa_litvish. You will make this dish very quickly.
Ingredients:
eggs - 2 pcs.
cream - 20 g + salt/pepper
fresh or frozen corn - 70 g
leeks - 15 g
cream 30% - 70 g
nutmeg
salt/pepper - to taste
chives/parsley - 1/4 bunch
boiled and frozen mussels - 100 g
sourdough bread (you can do without)
butter - a piece
parmesan cheese - 10 g
Cooking method:
1. Cut leeks into half rings, fry in vegetable oil for a few minutes and add cream and spices. Cook over medium heat until the cream has evaporated 2 times.
2. Drain corn and add to the cream. Cook for 2 minutes.
3. Chop greens and add them to the corn.
4. Mussels do not need to be thawed and can be boiled immediately in salted boiling water for 2 minutes.
5. Then fry them in oil for about 1 minute. If you want them stewed, you can immediately cook them in a frying pan/stewpan with oil for a few minutes.
6. Prepare a scramble or omelet from eggs and cream.
7. Cut a slice of bread. Fry the bread in a mixture of oil and butter until it is crispy on both sides.
8. If eating with bread, put omelet, mussels, and then creamed corn on top of it.
9. Sprinkle with parmesan on top.
You can also find recipes on OBOZ.UA: