Trending:
How to make hearty French sandwich for lunch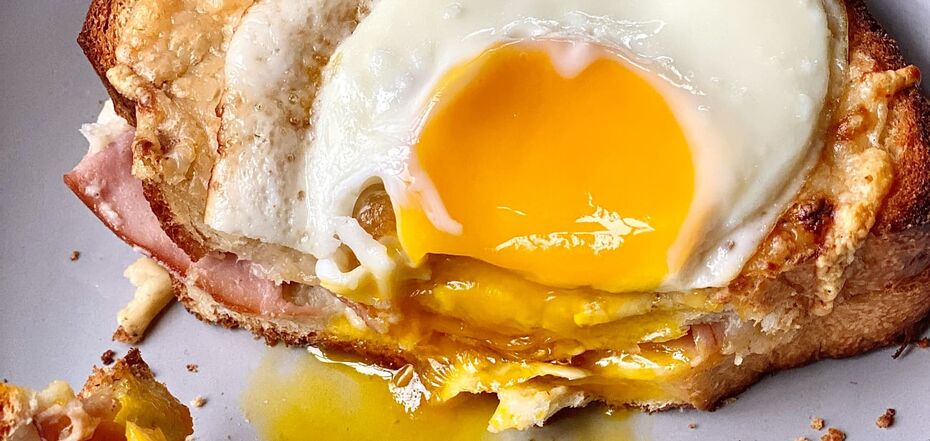 French Croque Madame sandwich. Source: thekitchn.com
If you want to have a quick lunch with a sandwich, make yourself a Croque Madame. This is a traditional French dish that consists of a few simple ingredients but is also very satisfying. The secret is that the toast is very flavorful and crispy because it needs to be baked in the oven.
The idea of making a Croque Madame sandwich for lunch was published on the Instagram page of food blogger Oleksandra with the nickname aleksa_litvish. The finished dish will pleasantly surprise you.
Ingredients: for 2 servings:
toast bread - 4 slices
Emmentaler/Gruyére/Gouda cheese - 70 g (should melt well and give a rich flavor)
tomato - 1 pc
ham - 4 slices
eggs - 2 pcs.
Ingredients for the bechamel sauce:
10 grams of flour and butter
150 ml of milk or 10% cream
salt and nutmeg
Method of preparation:
1. Make bechamel sauce.
2. Add mustard to the warm sauce.
3. Preheat the oven to 200 degrees.
4. Cut tomatoes into very thin slices (for more juiciness).
5. Fry toasts in oil or butter.
6. Spread 2-3 tablespoons of sauce on the bottom toast.
7. Add 2 slices of ham and tomatoes.
8. Grate cheese: Grate 30 grams for two sandwiches, and stir 40 grams into the remaining sauce.
9. Cover with the second slice of bread and top with the remaining sauce and cheese.
10. Put on parchment and bake in the oven for 10 minutes.
11. Fry an egg or boil a poached egg.
You can also find recipes on OBOZ.UA: