Trending:
How to make a classic strudel with apples: the dough will be soft and elastic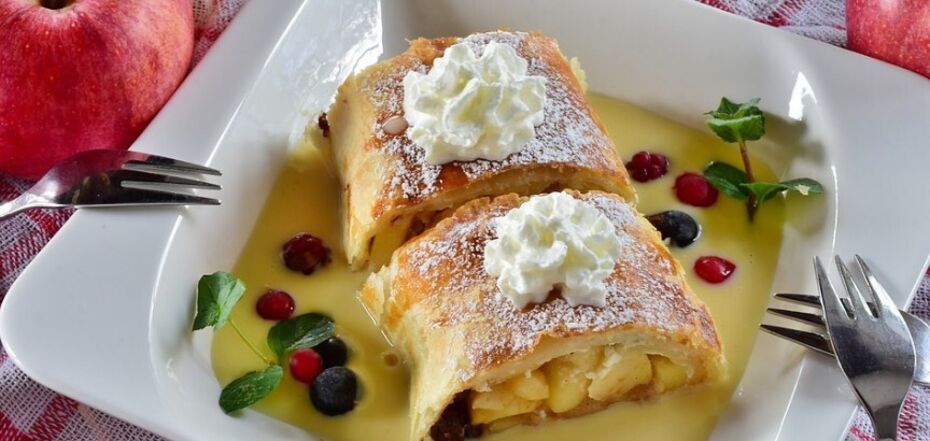 The most successful recipe for a classic strudel . Source: Pixabay
One of the most popular desserts with apple filling is strudel. This dish is best prepared in the fall, as the fruit for the filling is very juicy and sweet. Despite the wide variety of simplified versions, the classic strudel remains the most popular and delicious.
The idea of making a classic strudel with apples was published on the Instagram page of food blogger Polina with the nickname polli_cooking. For this dessert, it is very important to make a fluffy and elastic dough, so you should follow a clear sequence.
Ingredients:
120 ml. water
70 ml. oil
240 g. flour
1 tsp of sugar
0.5 tsp of salt
Ingredients for the filling:
2-3 apples
juice of half a lemon
1-2 tbsp of cinnamon
1-2 tbsp of sugar
3 tbsp of breadcrumbs
50 g. nuts
50 g. cranberries/raisins
Method of preparation:
1. For the dough, mix water, oil, sugar, and salt. Add the flour in several stages and knead the dough, first with a whisk/spatula, and then knead it with your hands for 5 minutes and leave it in a bowl.
2. For the filling, peel the apples and chop them finely.
3. Add all other ingredients to the apples and mix well.
4. Roll out the dough into a very thin layer. The surface does not need to be floured. The dough should show through, but not tear.
5. Spread the filling and roll the strudel, remembering to fold the edges.
6. Put the strudel on a parchment-lined baking sheet and put it in a preheated 180-degree oven for 35-45 minutes, until golden brown.
You can also find recipes on OBOZ.UA: