Trending:
How to get rid of a greasy stain on clothes in 5 minutes: an elementary method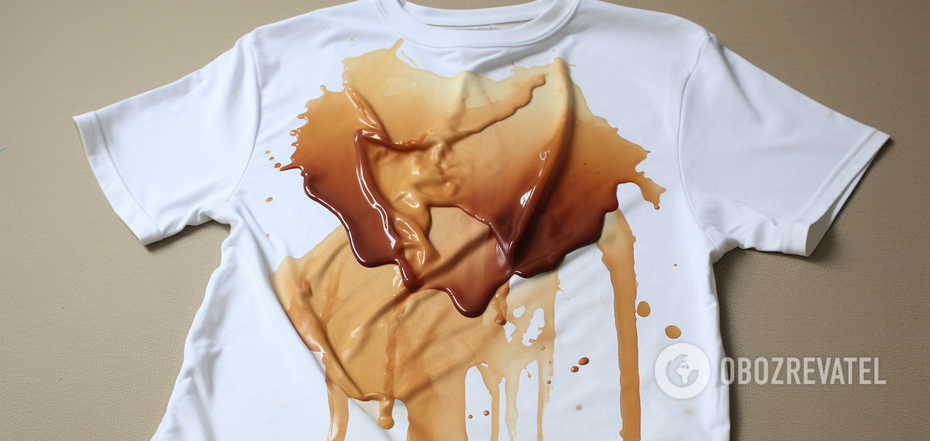 It is important to act quickly when dealing with grease stains
For people who are picky about the cleanliness of their clothes, getting a greasy stain on their clothes is tantamount to a disaster. It seems that it will be very difficult, if not impossible, to remove it.
In fact, if you act quickly, the problem can be solved without too much effort. OBOZREVATEL tells you about a life hack that will help remove fat from the tissue completely in a matter of minutes.
The main principle in removing any stain is to choose the right substance that will dissolve the pollutant and not harm the fabric. In the case of grease, such a substance is dishwashing liquid. But you should choose a colorless product. A brightly colored liquid can remove grease, but leave behind a trace of dye.
White vinegar can enhance the effect of dishwashing liquid or gel. Again, do not use food grade vinegar, especially if you need to clean a light-colored item. It is better to treat the contaminated area with these products with protective gloves.
To get rid of a grease stain, try to clean the item immediately after you have soiled it. Apply a sufficient amount of dishwashing detergent to the stain and gently rub it in with your fingers, moving from the edges to the center of the stained area. This way, you will not spread the grease further along the fibers, but will ensure a deep effect of the liquid. Leave the product on for a few minutes. Then, dip a cotton pad in vinegar and gently wash off the soap liquid. Again, moving towards the center of the stain.
When the cleaning process is complete, rinse the item in warm, but not hot or cold water. Then wash it on a program suitable for the type of fabric.
If the stain is stubborn, don't give up. Repeated cleaning can help. In this case, it is better to be patient and persistent than to use vigorous friction or very aggressive means.
Soda paste will also help to remove grease from a fresh stain on the fabric. To prepare it, dilute 8 tablespoons of the product with half a glass of water, apply the resulting slurry to the stained area and leave it for an hour. During this time, the baking soda will break down some of the fat and absorb the rest. All you have to do is wash off the rest and wash the item.
Earlier, OBOZREVATEL told you how to remove marker marks from clothes and various surfaces in the house.
Subscribe to OBOZREVATEL 's Telegram and Viber channels to keep up with the latest developments.