Trending:
How to cook Mimosa salad in a new way: add one ingredient for a better taste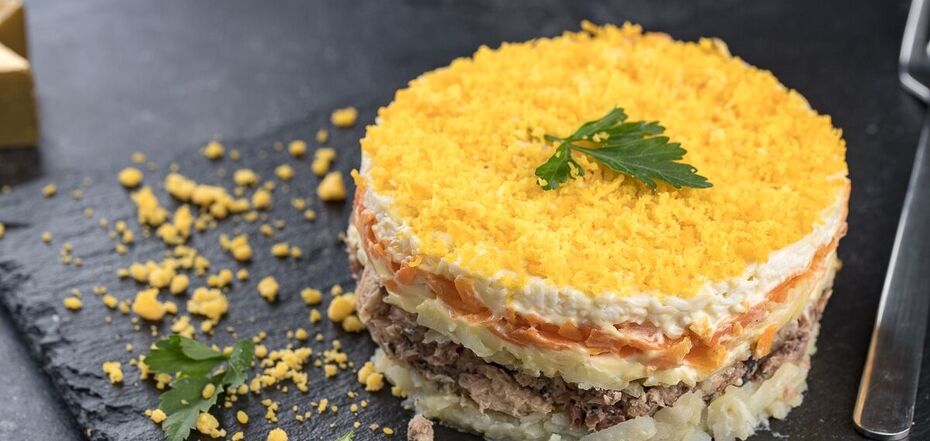 ''Mimosa'' in a new way. Source: qadin.net
"Mimosa" is a very satisfying salad with vegetables and tuna. The ingredients are simply chopped and layered. To make the taste tender and juicy, it is a good idea to add melted cheese.
The idea of making "Mimosa" salad with melted cheese was published on the Instagram page of a food blogger with the nickname top_havchik_. In order for all the flavors to soak in, leave the salad in the fridge for an hour.
Ingredients:
potatoes - 3 pcs
carrots - 2 pcs
tuna in its own juice - 1 can
processed cheese - 2 pcs
eggs - 2 pcs
onion - 1/2 pc
mayonnaise
Method of preparation:
1. Boil potatoes and carrots in their skins, about 20 minutes.
2. Peel and grate on a coarse grater.
3. Boil the eggs hard-boiled.
4. Peel and finely grate.
5. Dice the onion. Grate the processed cheese on a fine grater.
6. Put the ingredients in layers in a mold or any other dish:
1 - potatoes
2 - mayonnaise
3 - tuna
4 - onions
5 - carrots
6 - mayonnaise
7 - processed cheese
8 - mayonnaise
9 - eggs
7. Put the salad in the refrigerator for 1 hour.
You can also find recipes on OBOZ.UA: