Trending:
How to bake delicious mackerel for dinner: there's one little secret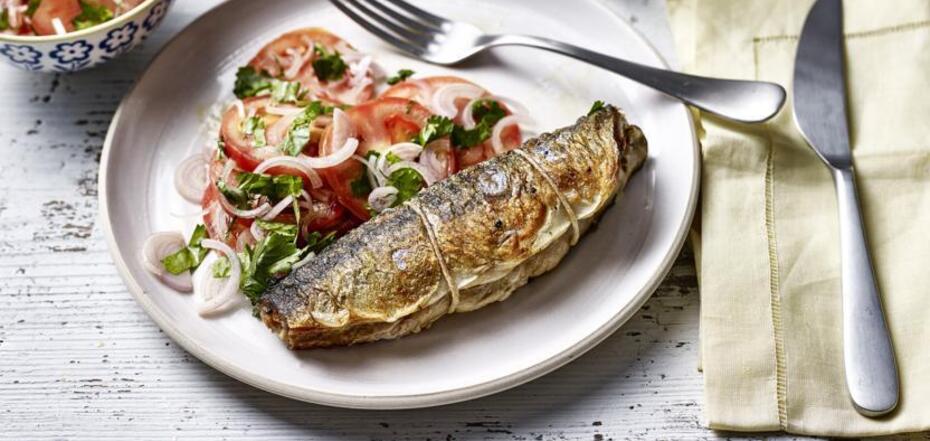 Mackerel in an unusual marinade. Source: bbc.co.uk
Fish is good for lunch because it is very nutritious and satisfying and promotes active mental activity. But to make the product really tasty, it needs to be properly marinated and baked. Very tender and flavorful mackerel is obtained using the proposed technology.
The idea of cooking juicy baked mackerel was published on the Instagram page of food blogger Tania Sheremet (tania_sheremet_). The marinade for the fish is prepared with beer. To preserve all the juices inside, you need to cover the mold with wet parchment on top.
Ingredients:
mackerel - 2-3 pcs.
onions - 2 large
lemon juice - to taste
salt and pepper - to taste
Ingredients for the marinade:
soy sauce - 3-4 tbsp.
apple cider vinegar - 2 tbsp
garlic - 4 cloves
dried ginger - 1 tsp.
chili flakes - to taste
sugar - 1 tsp.
dark beer - 150 ml
Method of preparation:
1. Clean the mackerel, cut off the tail and fins, and cut into two parts.
2. Season with salt and pepper, pour lemon juice over the fish, and set aside for 20 minutes.
3. Cut onions into quarter rings and fry until transparent.
4. To make marinade, mix soy sauce, apple cider vinegar, chopped garlic, sugar, dry ginger, chili flakes, and dark beer.
5. Put the fried onions in the baking dish, then add the fish, pour the marinade over the fish, and cover with damp parchment.
6. Put it in a preheated oven at 190 degrees for 30 minutes, remove the parchment, and put it in the oven for another 20 minutes.
You can also find recipes on OBOZ.UA: