Trending:
Crumble in a new way: what to add for a bright and unusual flavor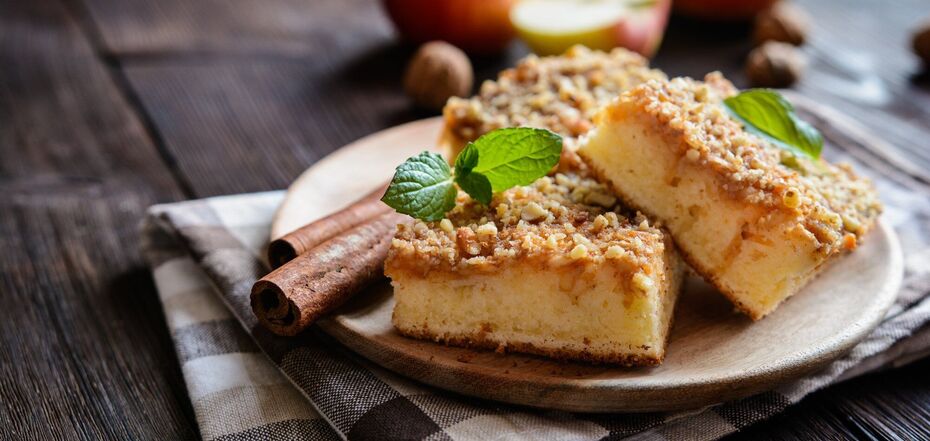 Apple and pear crumble. Source: depositphotos.com
The ideal pie that every housewife can make is a crumble based on shortcrust pastry. Berries, nuts, and fruits can be used for the filling.
Cook Anastasia shared a recipe for a flavorful apple and pear crumble, which will be very tender and successful, on Instagram.
Ingredients:
egg yolks - 6 pcs.
sugar - 150 g
butter (room temperature) - 150 g
milk - 3 tbsp. l
baking powder - 10 g
flour - 500 g
The filling:
apples - 1.5 kg
pear - 1-2 pcs.
juice of half a lemon
sugar - 100 g
egg whites - at least 6, preferably 9 pcs.
Method of preparation:
1. Beat yolks with sugar. Put whites in the refrigerator. Add softened butter and milk. Gradually add flour and baking powder and knead with your hands until the dough becomes elastic and does not stick to your hands. Put a third of the dough in the freezer and the rest in the refrigerator for 15 minutes.
2. To make the filling, wash apples, peel them, remove the core, and grate them. Peel pears and cut them into small cubes. Put everything in a frying pan and add lemon juice and sugar. Simmer over low heat until the liquid evaporates.
3. Beat the whites until peaky.
4. Grease a baking sheet with butter and sprinkle with a little flour. Roll out the dough around the perimeter and put the filling on top. Remove the dough from the freezer, put the whites on top, and grate the remaining dough from the freezer on top.
5. Bake the cake for 45 minutes at 170 C.
You can also find recipes on OBOZ.UA: