Trending:
Corn polenta in a new way: how to cook a delicious dish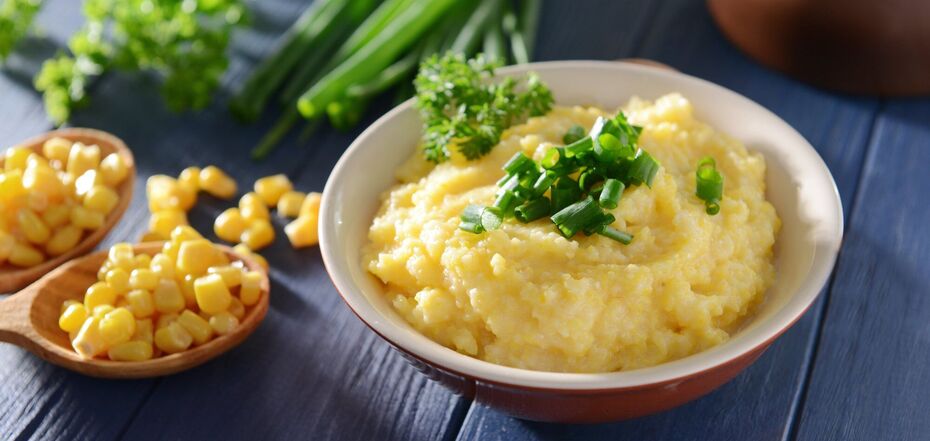 Corn polenta. Source: depositphotos.com
Polenta is a traditional Italian corn porridge dish. It is prepared in the form of a casserole or just porridge and served with mushrooms, ham, cheese, shrimp, or vegetables. To diversify the flavor, you can add one autumnal ingredient to polenta.
Food blogger Natalia Bernard (nataliebanar) shared a recipe for polenta with pumpkin and cheese on her Instagram page.
Ingredients:
corn flour polenta - 120 g
chicken/vegetable broth - 3 cups
pumpkin puree - 80 g
butter - 25 g
Parmesan cheese - 25-30 g
onion -1 pc
raw dried ham\bacon -100 g
tomatoes - 2 pcs
romaine lettuce - 40-50 g
black pepper, coriander, smoked paprika
How to cook:
1. Pour the broth into a saucepan and bring it to a boil. Gradually add the polenta, stirring constantly. Cook over low heat until thickened, about 15-20 minutes. Be sure to stir to prevent the porridge from burning.
2. 2-3 minutes before cooking, add pumpkin puree, butter, Parmesan cheese, black pepper, herbes de Provence, turmeric and stir until smooth, so that the butter and cheese are well melted. Remove from the heat.
3. Meanwhile, cut the onion, ham and tomatoes into cubes and the lettuce into small pieces. First, fry the onion in olive oil for 2-3 minutes, add the ham, and after 2-3 minutes, add the tomatoes. Simmer for 5 minutes. At the end, add the salad and stir.
4. Serve the polenta with ham and vegetables on top, sprinkle with Parmesan cheese. Enjoy!
You can also find more recipes on OBOZ.UA: