Trending:
Budget stuffed peppers with rice and minced meat: easy to cook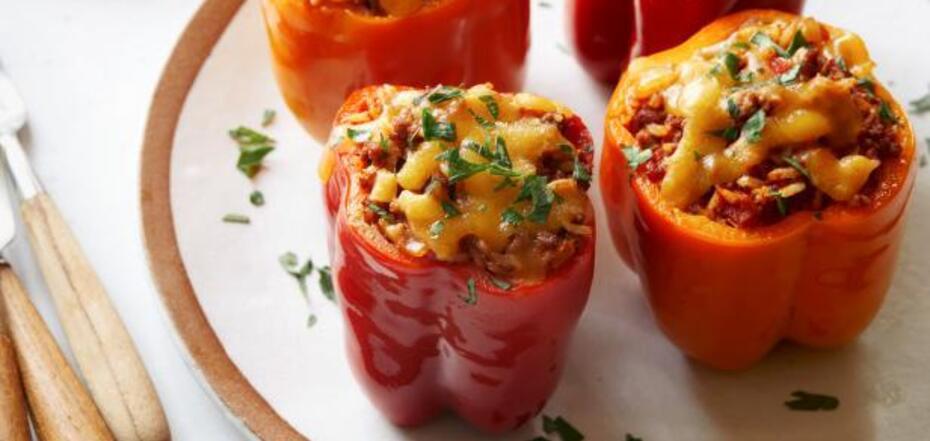 Budget stuffed peppers with rice. Source: foodnetwork.com
If you have juicy fresh peppers, some rice and minced meat, you won't go hungry. These simple ingredients can be used to make a very satisfying dish that requires minimal effort and time. Just put the stuffing in and go about your business while the dish is in the oven.
The idea of cooking juicy stuffed peppers with rice was published on the top_havchik_ cooking page on Instagram. All the ingredients remain healthy after baking.
Ingredients:
pepper - 2 pcs
rice - 300 g
minced chicken - 450 g
onion - 1 pc
carrot - 1 pc
sour cream - 350 g
tomato paste / ketchup / tomato puree - 200 g
water - 1 glass
salt, pepper, spices - to taste
Method of preparation:
1. Wash the peppers, remove the seeds, cut them in half.
2. Wash carrots and onions, peel.
3. Cut the onion into small cubes, grate the carrots.
4. Cook rice for 10-15 minutes, combine with minced meat.
5. Add onions and carrots.
6. Season with salt and spices and mix thoroughly.
7. Fill each pepper with the filling, tamping it firmly inside the vegetable.
8. Put the peppers in the mold.
9. Mix tomato paste and sour cream in a glass, pour in water.
10. Add 1 tsp of salt and spices, stir.
11. Pour the mixture over the peppers.
12. Bake for 35-40 minutes.
You can also find recipes on OBOZ.UA: