Trending:
Apple charlotte with almonds and milk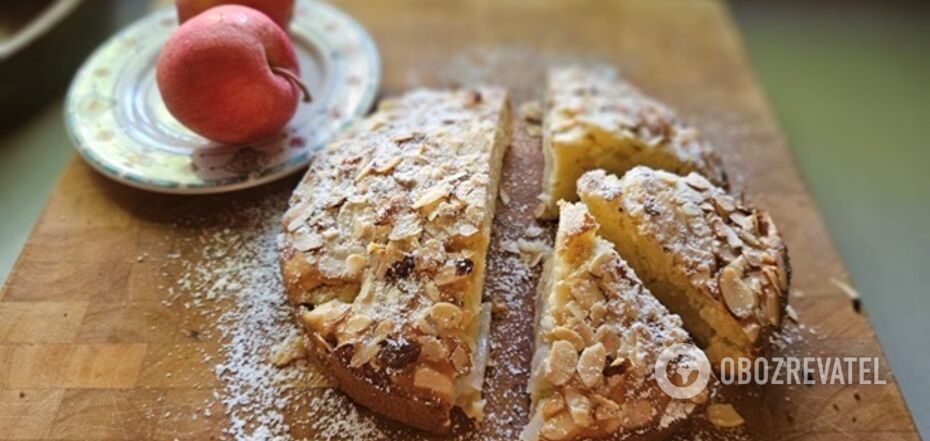 Apple charlotte with almonds and milk
Charlotte is a classic sponge cake that every housewife has probably baked at least once. It is perfect for breakfast and for taking with you. But how do you make the most delicious charlotte? Here are some recommendations based on my own experiments:
- Use 2 eggs instead of 4 and replace the other 2 with milk. Thus, charlotte will be very tender. This recipe keeps it fresh longer.
- Add vanilla or almond extract, or lemon or orange zest to the batter. These ingredients go well with apples and make the pie more interesting.
- Be sure to check with a wooden skewer if the charlotte is done before taking it out. Sometimes it takes an extra 5 or even 10 minutes.
- Don't neglect the parchment on the bottom of the mold. You can also grease it with butter and dust it with semolina.
- Let the charlotte cool slightly before removing it from the mold, then trim the edges with a knife.
Ingredients:
- 3 apples (250 g, peeled)
- 2 eggs
- 100 ml of milk
- 2 tbsp. vegetable oil (refined, transparent)
- 80 g. sugar
- 170 g. flour, sifted
- 1 tsp. baking powder
- 1 tsp. vanilla extract
- a handful of almond chips
1. Prepare the ingredients. Turn on the oven to 355 degrees to preheat. Peel apples, cut them into thick slices, and sift flour.
2. Mix eggs and sugar in a deep bowl and beat with a mixer. The mass should lighten and increase in volume. Beat for about 4 minutes.
3. Add milk, vanilla, and oil, and mix everything with a mixer until smooth. Now add the flour and baking powder. Mix again just for a few seconds. The batter is ready. Layer the apples and pour the batter into the mold.
4. Sprinkle generously with almond chips on top and put in the preheated oven for 45 minutes. Let cool and dust with powdered sugar before serving.
Enjoy!