Trending:
7 Barbie dolls that were actually discontinued. What scandals were behind it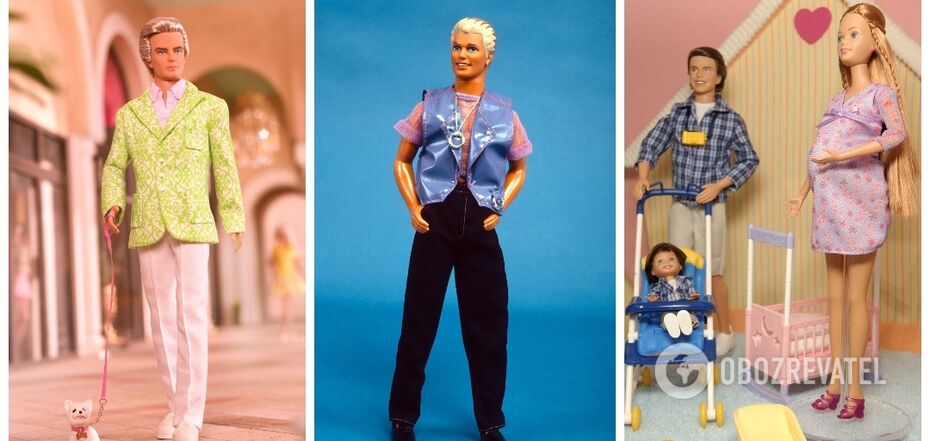 Children's toys that have been withdrawn from sale.
Greta Gerwig, the writer and director of Barbie (2023), received permission from Mattel, the company that creates the iconic dolls, to show the ones that have been discontinued. And not just for any reason, but because of public scandals. In short, for critics, they are "not as perfect" as Barbie and Ken, and have a dubious impact on children's development.
Interestingly, each of these rejected dolls was banned at the end of the last century or 10 years ago. Today, society is more loyal, and it is likely that some of these Mattel toys would be produced without any problems. Read more in the OBOZREVATEL article.
1. Allan
In the movie Barbie, there are many characters named Ken and only one named Allan (played by Canadian actor Michael Cera). He is Ken's best friend, and "all of Ken's clothes fit him!". Allan is a real-life doll that was released in 1964. He was discontinued 2 years later. Why? It was because the creators intended that the doll could wear Ken's clothes. Attitude noted that there were rumors that the two were too close. Then Mattel clarified that Allan was completely suitable for Ken's clothing size, and no more. After the explanation, the company had to stop producing the toy.
In the 90s, the manufacturers returned the doll to store shelves, but with a radical rebranding: they called it Allan (with one "l") and indicated that he was Midge's husband (read about her in paragraph 2).
2. Pregnant Midge
English actress Emirald Fennell played a pregnant Midge in Barbie. What was the real story of the toy? In 1963, Mattel released a gift set for a wedding party, including a bridesmaid - not yet pregnant Midge, a best man - Alan and the groomsmen Barbie and Ken.
In 2002, an updated version of Midge went on sale in the form of a doll with a removable pregnant belly and a small baby that could be put inside. Walmart withdrew it due to complaints from parents: they said that such a toy promoted teenage pregnancy.
3. Earring Magic Ken
English actor Tom Storton appeared in the movie Barbie as Earring Magic Ken. Mattel released this doll in 1993. The main idea was to create a toy that was "cooler" than Ken: wearing a mesh purple shirt and leather vest, with smooth shiny hair and an earring in his ear. This (unintentionally) made the doll queer-oriented, which homophobic customers did not like. As a result, Earring Magic Ken was discontinued 6 months after its release.
4. Sugar Daddy Ken
Palm Beach Sugar Daddy Ken was played by Welsh actor Rob Brydon. In 2009, Ken, dressed in a lime green jacquard jacket and with a tiny white dog named Sugar, was released in honor of Barbie's 50th birthday. The name itself confused the New York Post. Sugar Daddy is a term that refers to men who are successful in their careers but who don't have enough time for their personal lives. They find girls to whom they can offer what they have in abundance - money and a luxurious lifestyle. Of course, not for free, but for certain arrangements.
So, because of the scandal, the doll was removed from store shelves. There is a funny episode in the movie Barbie where it is explained that critics allegedly misunderstood the idea of the manufacturers. Because in fact, Sugar Daddy Ken is not a sugar daddy. His dog's name is Sugar, and he is his dad. It doesn't sound very convincing.
5. Video Girl Barbie
American dancer, actress and singer Mette Towley played Video Girl Barbie in the movie. This doll seems quite safe, but the camera built into its back, which can record up to 30 minutes of video and send it to a computer, did not please the FBI (an agency of the US Department of Justice).
In 2010 (after the release of Video Girl Barbie), the agency published a "cybercrime alert". It stated that the toy's ability to capture video and transmit it to a computer was a potential "dangerous tool for pedophiles."
6. Growing Up Skipper
Actress Hannah Halik-Brown appeared in the movie Barbie as Growing Up Skipper. This doll was first released in 1964 as Barbie's little sister. In 1975, Mattel decided it was time for this toy to grow up. Literally. A mechanism was built into her that could stretch her silhouette by 3 cm, and Skipper became taller. If you press on the center of her breasts, they will grow as well. This is how a young little girl transformed into a teenager.
The parents of the children did not like the creativity of the manufacturers. They were outraged that the doll's breasts were growing. So Skipper was taken off the market.
7. Tanner the dog
When Barbie, played by Australian actress Margot Robbie, enters Weird Barbie's house, she is greeted by a strange dog that can defecate. Tanner the dog ate toys in the form of treats and then released brown pellets from his body. But Mattel rejected this idea as well.
There was a magnet in the play set that could detach. The U.S. Consumer Product Safety Commission said that if a child swallowed several magnets, they could attract each other and cause a potentially fatal tear or blockage of the intestines.
Earlier, OBOZREVATEL wrote about 7 striking looks that Margot Robbie copied from Barbie at the premieres of the movie of the same name.
Only verified information is available on our Telegram channel Obozrevatel and Viber. Don't fall for fakes!