Trending:
Trendy Barbie-style brownies that went viral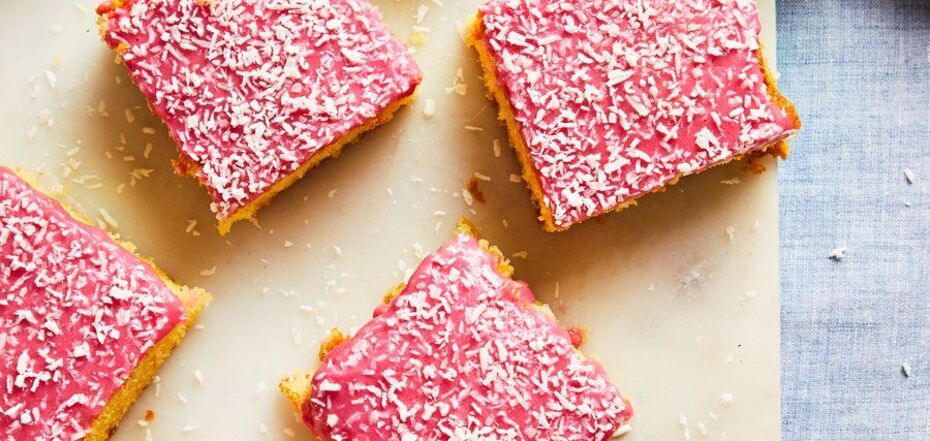 How to make pink Barbie-style brownies. Source: olivemagazine.com
Barbie's style has become a trend after the premiere of the movie of the same name. More often than not, the stylish pink color can be seen in clothes and even in food. If you are looking for a colorful Barbie dessert for a birthday party or other event, pink sponge cakes, which you can make at home, will be a great option.
The idea of making Barbie-style sponge cakes is published on the Instagram page of food blogger Yulia Vylych (vilich_food_blog). The dough turns out very fluffy and tender.
Bisquick ingredients:
3 egg whites
100 g sugar
90 g almond or coconut flour
3 eggs
20 g wheat flour
Method of preparation:
1. Beat the whites into a foamy structure. It will take about 30 seconds. Add 30 g of sugar. Continue beating until the whites are fluffy and do not fall off the whisk.
2. Combine the remaining eggs and sugar. Beat for 3 minutes.
3. Add the sifted wheat flour and almond or coconut flour to the egg mixture. Mix on low speed until smooth.
4. Add the whipped proteins to the mixture. Mix the biscuit gently with a spatula.
5. Bake at 180 degrees for 13 minutes. Let cool and remove the parchment. Cut out rectangles of 25/30 cm.
Ingredients for the cherry mousse:
100 g cherry puree (remove seeds and rub through a sieve);
2 tsp cornstarch;
150 g condensed milk (raw);
150 g cream cheese;
250 ml of heavy cream 33-36%;
10 g gelatin 200-220 bloom soaked in 50 ml of water.
Method of preparation:
1. Add starch to the puree. Put on the heat.
2. Boil the mass for 10 seconds. Remove from heat, add gelatin.
3. Stir everything until homogeneous. Add condensed milk.
4. Whip cream to soft peaks. Combine cream and cherry base.
5. Stir with a whisk.
Ingredients for the coconut mousse:
250 g creamy cottage cheese;
400 ml of heavy cream 33-36%;
100 g condensed milk (white);
2 tsp coconut paste;
30 g powdered sugar;
13 g gelatin soaked in 60 ml of water.
Method of preparation:
1. Heat 100 ml of cream. Add gelatin and stir until dissolved.
2. Combine condensed milk, cheese and powder. Beat the mass until homogeneous. Add cream.
3. Whip the cream that remains to soft peaks. Combine the cream and the base of the mousse.
4. Stir until smooth with a whisk. If the mousse becomes too thick before spreading it on the biscuit, reheat the bowl with the mousse on a water bath or place in hot water for a few minutes. Assemble the cake.
Also on OBOZREVATEL you can read the recipes: