Trending:
"We were not prepared at all!" Israeli resident recounts a hellish morning of Hamas attacks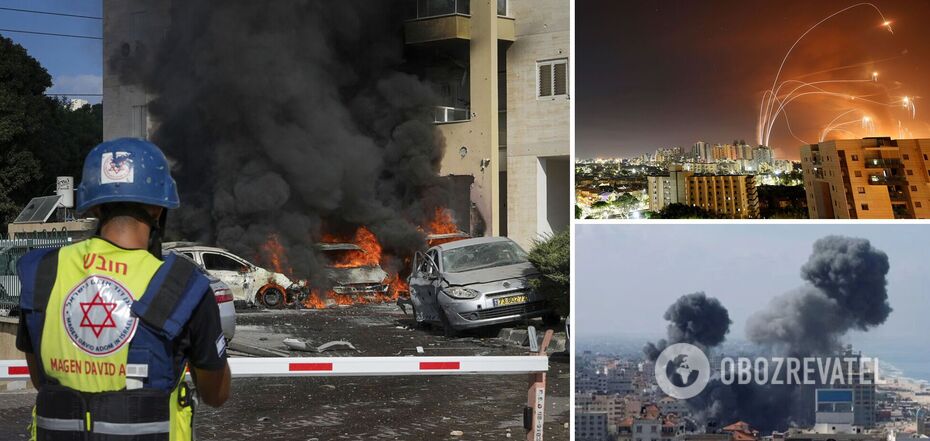 Hamas fighters attacked Israel
The massive Hamas attack on Israel began at 6:30 a.m., so many Israelis were awakened by the sound of air raids. People had to run to bomb shelters with their children to escape the rocket attacks, and Israeli army reservists were called to recruitment centers.
Tetiana Khaymovych, a journalist and contributor to Obozrevatel, described the hellish morning after the attack, which is already being called the largest terrorist attack by the Palestinians in Israel. She assured that even though the Palestinian-Israeli conflict has been going on for decades, the attack on October 7 came as a complete surprise to the people of Israel.
Hamas' large-scale attack on Israel began with massive rocket attacks in the early morning hours of October 7.
"I woke up at 6:30 in the morning to an air raid alert. Luckily, the apartment where we live has a special bomb shelter room, so I woke up my husband, grabbed the child, and we ran there. My dad is sleeping there now, having recently come from Kyiv to take a break from the air raid alerts. He didn't really understand what was happening at first... I had to explain it to him," Khaymovych said.
Tetiana's family has been living in the Israeli city of Herzliya for several years. According to Khaymovych, after the attack began, the local authorities first closed the beaches and kindergartens. Residents also received notifications with safety instructions.
"We are asked to stay near the bomb shelters, not to move around unnecessarily. We were supposed to go to my child's friend's birthday party at the kindergarten today, and at first my mom wrote to me that they didn't know yet, but they don't have a bomb shelter, so we were already hesitating. And then she wrote to me that her husband, a reserve soldier, was called up... I also talked to other friends whose husbands were also called up. So the situation is not good. They say that there has never been a terrorist attack of this scale. We are waiting for what our government will say," the journalist said.
She admits that despite the fact that the conflict between the Palestinians and Israel has been going on for decades, this time the attack came as a complete surprise to the people of Israel.
"The siren and the news we read at 8 a.m. caught us by surprise. Usually, before something like this happens, there are weeks of gossip that it will happen again soon. This time, there were no signs. So we were completely unprepared for all this. And when the four-year-old started asking us what those sounds were, why we were running, why we were scared, we had to google how to tell children about such things. We were not prepared at all," Khaymovych shared her memories of her emotions at the beginning of this terrible day for Israel.
As a reminder, after massive rocket attacks on Israeli territory, many killed and wounded civilians, footage of captured and killed Israeli soldiers, whose bodies were being mocked by Hamas militants, the Israeli Defense Minister declared war on Israel and launched Operation Iron Swords.
Meanwhile, the Hamas military commander called for arms, and terrorist leaders announced a military operation.
Israeli authorities declared a state of emergency throughout the country. According to the Ministry of Health, as of 15:00, more than 750 civilians have been hospitalized. At least 40 people have been killed.
Only verified information on our Telegram channel Obozrevatel and Viber channels. Do not fall for fakes!