Trending:
Trump is ahead of Biden in the poll for the first time: what caused it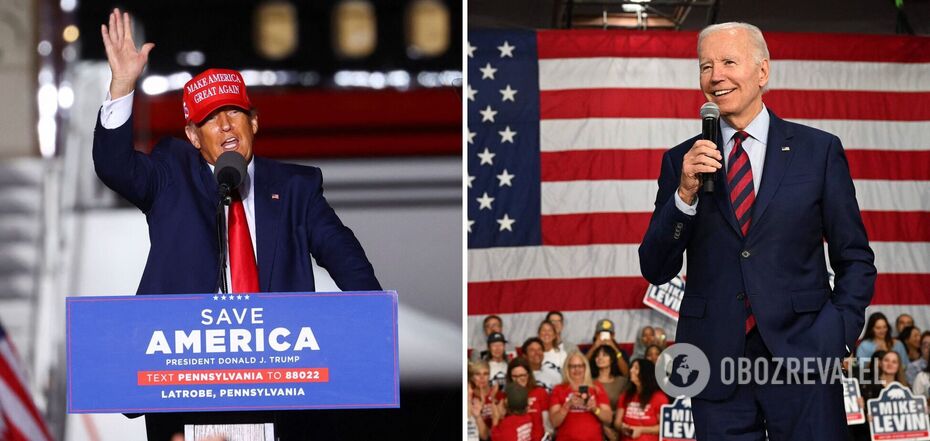 Donald Trump and Joe Biden. Source: OBOZREVATEL
According to the poll, the rating of US President Joe Biden has dropped to the lowest level during his presidency - to 40%. Most respondents said they disapprove of his approach to foreign policy and the war between Israel and Hamas.
The poll was conducted by NBC News. According to the article, 40% of registered voters approve of Biden's job performance, while 57% disapprove.
For the first time, Biden is lagging behind former US President Donald Trump in a hypothetical election race. At the same time, journalists noted that the deficit is within the margin of error for an election that is still more than 11 months away.
According to archival data cited by the TV channel, the highest level of approval of the current American president's performance was on April 1, 2021 - 51% (disapproval - 43%). In August 2021, both indicators were approximately 50-50, and since then, the level of disapproval has been consistently higher than the level of approval.
As noted, the weakening of Biden's position is most noticeable among Democrats, most of whom believe that Israel has gone too far in its military actions in the Gaza Strip, as well as among voters aged 18 to 34, with 70% of them disapproving of Biden's behavior in the war.
"Joe Biden is at an exceptionally low point in his presidency, and the main reason for that, especially in the Biden coalition, has to do with how Americans view his foreign policy actions," said Democratic pollster Jeff Horwitt of Hart Research Associates, who led the poll with Republican pollster Bill McInturff of Public Opinion Strategies.
McInturff said this is the first time that international affairs unrelated to U.S. troops have changed the American political landscape.
However, Horwitt warned that Biden could bring back disaffected Democrats and young voters. "These are people who have a proven track record of voting for Biden and the Democrats," he said, adding that there is still plenty of time between now and Election Day 2024.
As reported by OBOZ.UA, according to the poll, former US President Donald Trump, who intends to run in the 2024 elections, is ahead of the current head of state Joe Biden in five of the six most important states. These are Arizona, Georgia, Michigan, Nevada, and Pennsylvania.
Only verified information is available on our Telegram channel OBOZ.UA and Viber. Do not fall for fakes!