Trending:
The United States has successfully tested a "robo-goat" armed with a grenade launcher. Photo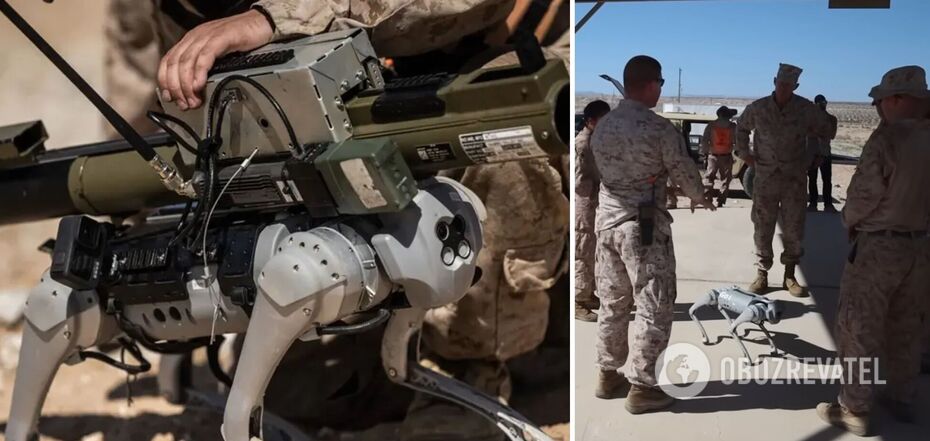 The development will reduce the risk of human casualties in collisions with tanks
The US Marines have successfully tested a "robot goat", also known as a "robot dog", equipped with an M72 LAW rocket-propelled grenade launcher. The development will allow Marines to strike targets remotely from a position of cover.
The tests took place as part of tactical exercises in September. As Interesting Engineering writes, the Chinese "robot dog" Unitree Go1 is widely available on the Internet and is relatively cheap (to watch the video, scroll to the end of the news).
The "robo-goat" can be controlled by an operator using a controller. In this way, it can conduct reconnaissance using the camera's "eyes" to assess the situation.
Once the robo-goat is in position, the missile can be launched using the controller, and if the robot survives the collision, it can wait to confirm the target's destruction before moving on or returning to rearm.
"The Marine can be in cover or behind cover, the weapon system can move forward, and the Marine can operate it from a safe location, allowing it to get closer to the target," said Aaron Safadi, an officer in the exercise's tactical training and management team.
To mount the M72 on the "goat robot," the vehicle was first fitted with a metal box containing firing controls and safety switches on its back. After firing an RPG, the box can be opened, the used launcher thrown away and a new M72 LAW installed. Such a system is convenient in combat situations, notes Interesting Engineering.
The capabilities of an armed "goat robot" could prove invaluable to armed forces around the world, as they would reduce the risk of human casualties when confronting heavily armed targets such as tanks.
It is also likely to provide some interesting tactical options for street and underground fighting in tunnels and other underground facilities, the article says.
As reported by OBOZ.UA, at the Army-2022 exhibition in Russia, an M-81 robot dog in a ninja costume armed with an RPG-26 grenade launcher was shown. It was presented as a new development, although such a robot is sold on AliExpress for $5,850.
Only verified information is available on the OBOZ.UA Telegram channel and Viber. Do not fall for fakes!