Trending:
The UN, at Russia's behest, suddenly calls to protect UOC-MP parishioners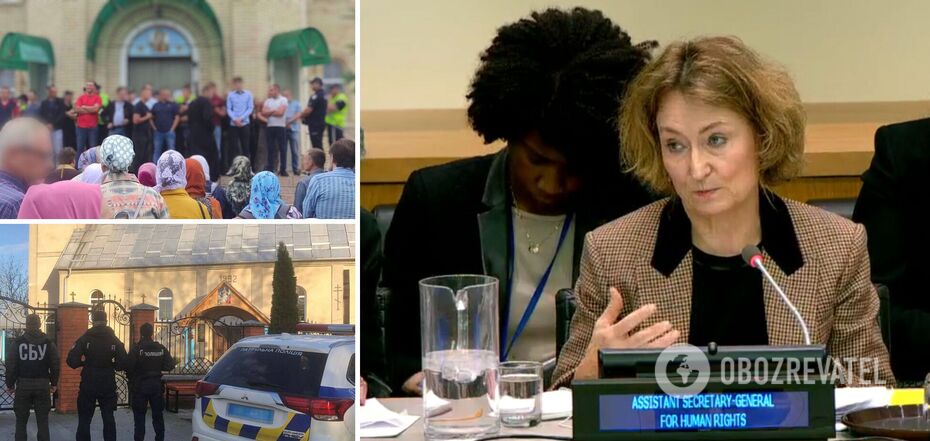 UN calls to protect parishioners of UOC-MP
The United Nations Security Council has called for the protection of believers of the Ukrainian Orthodox Church of the Moscow Patriarchate. They called the reaction of Ukrainian law enforcement to conflicts arising from the behavior of supporters of the "Russian world" inadequate.
The topic of the alleged persecution of "Moscow" priests and believers in Ukraine was discussed at a meeting on November 17, which was convened at the request of the aggressor country, Russia. This is stated on the UN website.
It reported that the Office of the High Commissioner for Human Rights (OHCHR) allegedly documented 10 cases of physical violence and six more cases of threats due to disputes between the faithful of the UOC-MP and the OCU.
In particular, OHCHR Assistant Secretary-General for Human Rights Ilse Brands Keris said that tensions between parishioners of different Orthodox jurisdictions are growing in Ukraine. According to her, in a number of cases, this tension "has resulted in violent incidents."
"Law enforcement failed to investigate them sufficiently and take measures to protect members of the UOC-MP," she said, claiming that this was an "inadequate" response.
Caris added that since February 2022, 68 of the more than 6,600 criminal cases opened for collaboration and other war-related crimes have involved UOC clergy.
The OHCHR representative called for "full respect for the rights to due process and fair trial in these extremely sensitive cases". Moreover, OHCHR expressed "concerns about the fairness of the criminal proceedings" in at least 26 cases involving UOC-MP priests.
In response, Ukraine's representative to the UN, Natalia Mudrenko, emphasized that the terrorist state of Russia only pretends to "protect" the faithful of the UOC-MP. In fact, the Kremlin is using the hands of its war criminals to steal Ukrainian dioceses and destroy churches and church property with missiles.
As reported by OBOZ.UA, the UOC-MP believers made scandalous statements, claiming that if Putin had not attacked Ukraine, "there would have been an atomic war." In Bukovyna, a priest of the UOC-MP did not open the door to the altar at the funeral of an Armed Forces soldier.
Only verified information on our Telegram channel OBOZ.UA and Viber. Do not fall for fakes!