Trending:
"Putin and Hamas have a lot in common": Biden on wars in Ukraine and Israel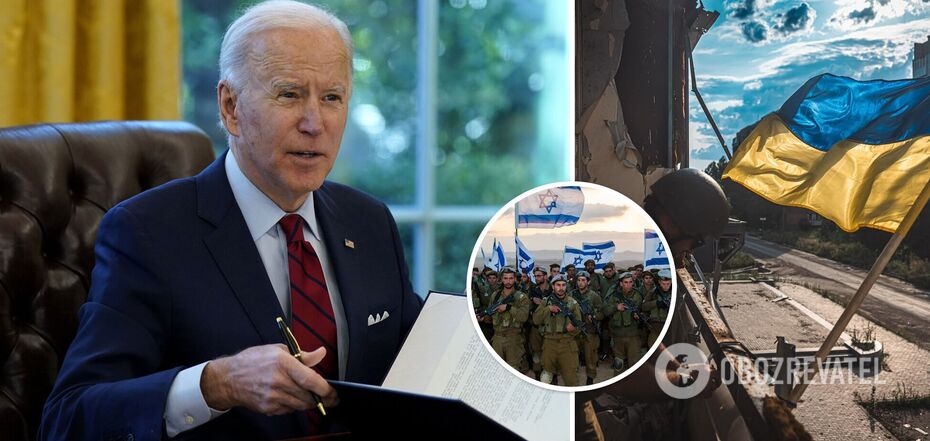 ''Putin and Hamas have a lot in common'': Biden on wars in Ukraine and Israel
The President of the United States, Joe Biden, has expressed solidarity with the people of Ukraine and Israel. He compared Russian dictator Vladimir Putin to the Hamas terrorists and said that he had already sent a request to Congress for additional unprecedented assistance to Ukraine and Israel.
The President of the United States emphasized that the world is currently at a transitional point in history and explained to Americans why they should support Ukraine and Israel. The broadcast of the speech was published on the Voice of America YouTube channel (to watch the video, scroll to the bottom of the page).
"Hamas and Putin pose different threats. But they have something in common: they want to destroy a neighboring democracy. For Hamas, the purpose of existence is to destroy Israel and kill Jews. At the same time, Putin denies that Ukraine has or ever had statehood. He claims that the U.S.S.R. created Ukraine," Biden said.
The US president also said that on October 20 he will request emergency funding for Ukraine and Israel from Congress. He called this aid a "smart investment" that will pay dividends for future generations.
"I will ask Congress to continue sending weapons to Ukraine so that Ukraine can stop Putin's brutality," he added.
The American President explained to the American people why it is so important for the country to help Ukraine and Israel.
"History teaches us that when dictators do not pay for aggression, they bring more chaos, more terror, and more destruction. They continue to do so, and the threat to America and the world is growing. If we do not stop Putin's thirst for power and control over Ukraine, he will not limit himself to Ukraine. Putin is already threatening to 'remind' Poland that part of their land was a 'gift from Russia.' The former Russian president called Estonia, Latvia, and Lithuania 'Russia's Baltic provinces'. In reality, these are our NATO allies," Biden said.
He added that if Putin is allowed to "erase Ukraine's independence," aggressors around the world will want to do the same.
"We cannot allow petty, angry partisan politics to prevent us from fulfilling our responsibility as a great nation. We cannot and will not allow terrorists like Hamas and tyrants like Putin to win. I refuse to let that happen. We must remember who we are. We are the United States of America, the United States of America!" Biden emphasized in his address to the nation.
The head of the White House added that Putin continues to fail in Ukraine, he has not succeeded and will never succeed in taking over the country. Ukrainian soldiers have already liberated more than half of the territories seized by Russians since February 24, 2022.
"When Putin invaded Ukraine, he thought he would take Kyiv and all of Ukraine in a matter of days. More than a year later, Putin has failed. And he continues to fail. Kyiv is still standing. Ukraine has regained more than 50% of the territories that Russia once occupied," the American leader emphasized.
As you know, on October 18, Biden visited Israel, which is in a state of war after the attack by Hamas militants. The US President arrived in Tel Aviv to demonstrate unwavering American support for Israel.
The American leader held talks and consultations with local authorities on the next steps in the fight against terrorism, and promised an unprecedented defense aid package.
Earlier, the media reported that Biden plans to request additional funding for Ukraine and Israel from Congress for $100 billion. The package will also include funding for border security and assistance to countries in the Indo-Pacific region, including Taiwan.
A group of lawmakers suggested that the US presidential administration develop a joint package for the two countries to get Republican votes.
As OBOZ.UA reported, on October 19, Ukrainian President Volodymyr Zelensky held talks with Joe Biden. He expressed gratitude for the supply of ATACMS missiles to Ukraine and emphasized that it had greatly inspired our citizens.
Only verified information on our Telegram OBOZ.UA and Viber. Do not fall for fakes!