Trending:
Prigozhin's revolt has destroyed the myth of Putin's unity in Russia, says Italian foreign minister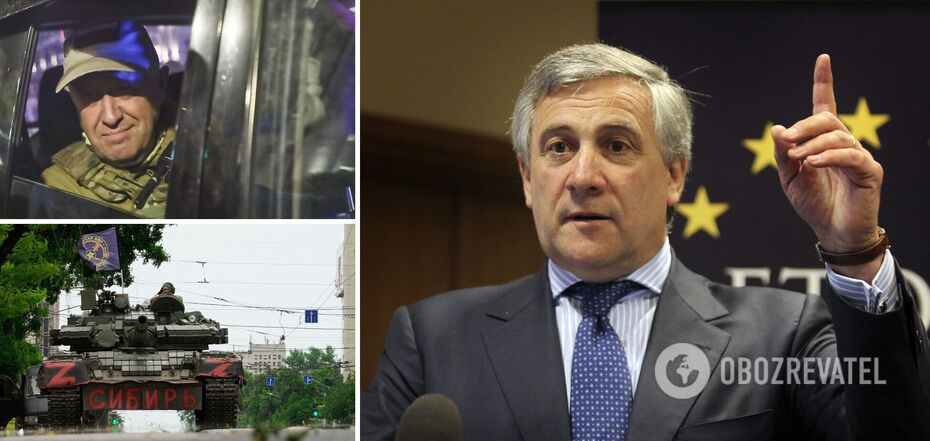 Antonio Tajani explained the effect of the Prigozhin revolt in the Russian Federation
The military revolt in Russia, which the leader of the Wagner PMC Yevgeny Prigozhin recently arranged but never completed, has had its results. For example, in the minds of many, these events in the aggressor country have destroyed the myth of unity of Putin's Russia.
The "coup" was certainly not a turning point for the war in Ukraine, but it showed that the Russian front is much weaker today. Italian Foreign Minister Antonio Tajani expressed this view in an interview with Il Messaggero.
"The myth of Putin's Russia's unity is over. This internal escalation is dividing the Russian military. This is the inevitable result when you support and fund a legion of mercenaries," he said.
The politician stressed that the Italian government does not interfere in Russia's internal affairs, but only monitors the safety of over 5,400 of its citizens in that country. And it also maintains contacts with Russian diplomacy to "ensure the integrity of diplomatic and consular structures".
"One thing is certain: the Russian front is weaker today than yesterday. I hope that peace is closer now. We are waiting to understand Russia's next steps in Ukraine," Tajani said when asked if there was a tipping point in Russia's war against Ukraine after the Prigozhin revolt.
He was also asked whether this uprising of the Wagnerians could have implications for the presence of these mercenaries in African countries. The minister said that Italy is assessing very carefully what is happening with the Wagner PMCs in Africa.
"Prigozhin's mercenaries in the region are carrying out activities that are contrary to Italian and European national interests. Of course, we hope that Wagner will become as less influential as possible in these regions," he added.
As OBOZREVATEL reported, analysts are convinced that the reputation of Kremlin dictator Vladimir Putin has been irreversibly damaged after the mutiny of Wagner's ringleader Yevgeny Prigozhin. This time the Russian head of state has managed to hold on to power, but recent events suggest his days are coming to an end.
Only verified information at our Telegram channel Obozrevatel and Viber. Do not be fooled by fakes!