Trending:
Orbán says Ukraine will not be able to win on the battlefield and plays along with Putin again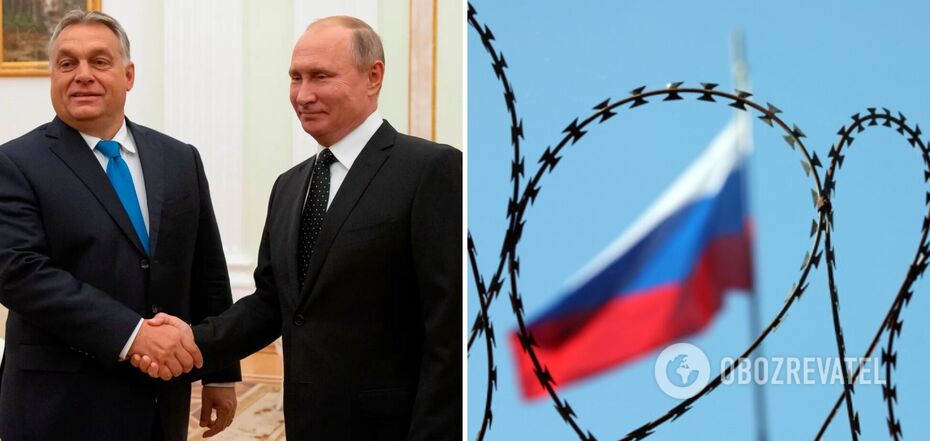 Viktor Orbán with Vladimir Putin
Hungarian Prime Minister Viktor Orbán made another anti-Ukrainian statement. He said that it was "quite obvious" that Ukraine would not be able to win the war with Russia and again praised Russian President Vladimir Putin.
Orbán made these statements after participating in the European Union summit. He was also outraged by the EU's intention to continue to help Ukraine, the Hungarian newspaper PestiSrácok reports.
In a conversation with a journalist, the Hungarian prime minister said that during the summit he had strongly opposed the continuation of the EU's assistance to Ukraine, as "everyone knows that Ukrainians cannot win at the front." In addition, he was outraged by the EU leadership's position on continuing to accept refugees in the Union.
According to Orbán, the debate lasted "until late at night".
"Three years have passed, we have an effective budget for seven years, and they want to rewrite it to add another 100 million. One item of expenditure is Ukraine, the other is migration. The conflicts that were 1000 kilometers away are now here in Europe," the Hungarian prime minister said.
He also emphasized that Hungary does not seem to have a problem with migrants, as it categorically refused to accept them, but in other European countries "these problems exist and are commonplace".
However, Orbán said that much more debate than around migration policy has arisen around the continuation of aid to Ukraine.
"In the case of Ukraine, it was a very big battle," the Hungarian "friend of Putin" said.
He emphasized that he saw no reason to help Ukraine and that Kyiv was obliged to provide a new strategy for defense against Russian aggression before it could apply for new funding.
"The strategy they have chosen has failed. It is quite obvious that Ukrainians will not win at the front. Politicians do not dare to admit it. But we have talked about this in Brussels before. There was no doubt (among European leaders - Ed.) that the Russian president would fail in Russia because there would be chaos, but this did not happen," Orbán said.
He also habitually criticized the EU. In his opinion, this association is unable to respond effectively to the challenges provoked by the war. In fact, according to Orbán, it is time to replace the EU leaders.
"We are facing a leadership problem. We have leaders who cannot solve this problem, so they need to be replaced because they can only make decisions in peacetime," Orbán said.
Earlier, it was reported that another EU country joined Hungary in blocking EU aid to Ukraine. Now, Orbán's rhetoric has been adopted by the newly appointed Prime Minister of Slovakia, Robert Fico.
Hungary and Slovakia tried to block the allocation of additional funding for Ukraine. However, according to the President of the European Council, Charles Michel, during the discussion of the EU budget revision, "a general consensus was reached on the additional 50 billion euros for Ukraine."
Only verified information is available on the OBOZ.UA Telegram channel and Viber. Do not fall for fakes!