Trending:
New facilities and tunnels: Russia, the US, and China are actively building nuclear test sites. Satellite photos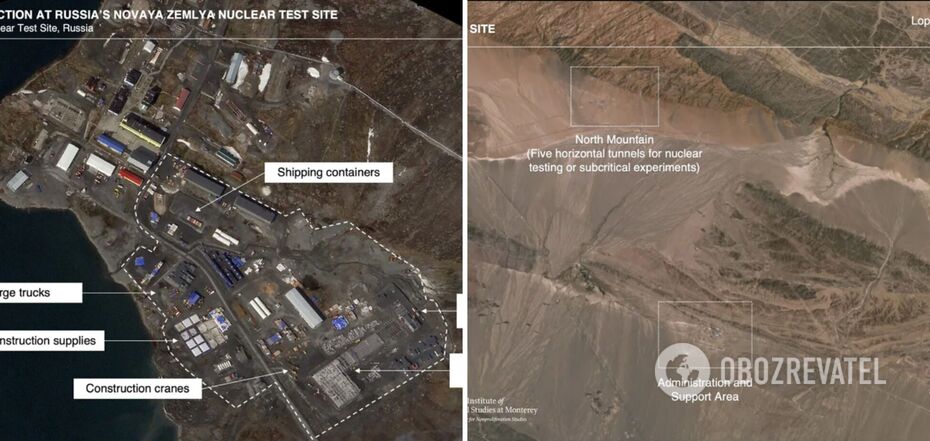 Expansion risks igniting a race
Russia, the United States and China have built new facilities and dug new tunnels at their nuclear test sites in recent years, according to new satellite imagery. This comes as tensions between the three largest nuclear powers have reached their peak in recent decades.
This was reported by CNN. While there is no evidence that Russia, the United States or China are preparing for imminent nuclear tests, images provided by a prominent military nonproliferation analyst illustrate the recent expansion of three nuclear test sites compared to a few years earlier.
One of these sites is operated by China in the far western region of Xinjiang, one by Russia in the Arctic Ocean archipelago, and the third in the United States in the Nevada desert.
Satellite imagery over the past three to five years shows new tunnels under the mountains, new roads and storage facilities, and vehicle traffic entering and leaving these facilities, said Jeffrey Lewis, an adjunct professor at the James Martin Center for Nonproliferation Studies at the Middle Institute.
"We're seeing really a lot of hints that Russia, China and the U.S. may resume nuclear testing," he said, something none of these countries have done since underground nuclear testing was banned by the 1996 Comprehensive Nuclear Test Ban Treaty.
Retired U.S. Air Force Col. Cedric Layton, a former intelligence analyst, studied images of the three states' nuclear facilities and came to a similar conclusion.
"It's quite clear that all three countries-Russia, China, and the United States-have invested a lot of time, effort, and money not only in modernizing their nuclear arsenals, but also in preparing the activities that will be required to conduct tests," he explained.
Analysts say the expansion risks triggering a race to modernize nuclear weapons testing infrastructure at a time of deep mistrust between Washington and the two authoritarian governments, although the idea of an actual armed conflict is not considered inevitable.
"The threat of nuclear tests lies in the extent to which they accelerate the growing arms race between the United States, on the one hand, and Russia and China, on the other. The consequences of this are that we are spending huge amounts of money, although we are not gaining more security," Lewis said.
After the Russian military invaded Ukraine last year, analysts also noticed the expansion of the country's nuclear test site at Novaya Zemlya in the Arctic Ocean archipelago.
In mid-August, the facility gained renewed attention after a visit by Defense Minister Sergei Shoigu.
The Novaya Zemlya test site was first used by the Soviet Union to conduct nuclear tests in 1955, until the last underground explosion occurred in the USSR in 1990. During this time, 130 tests involving more than 200 devices were conducted at the site.
Satellite imagery obtained by CNN showed that from 2021 to 2023, large-scale construction was underway at the Novaya Zemlya test site, with ships and new shipping containers arriving at the port, roads being cleared in winter, and tunnels being dug deep into the Arctic mountains.
Increased activity was also detected at China's Lop Nur nuclear test site, a dried-up salt lake between two deserts in sparsely populated western China.
Satellite imagery shows that a new, fifth underground tunnel has been excavated in recent years, and new roads have been built. A comparison of images taken in 2022 and 2023 shows that the pile of soil is steadily increasing in size, leading analysts to believe that the tunnels are expanding.
In addition, new construction is underway in the main administrative and support area. In 2021 and 2022, a new vault was built that can be used to store explosives.
As for the United States, every few years, an unclassified version of the Nuclear Posture Review is released, which provides an overview of the role of nuclear weapons in the country's security strategy.
The latest report, released last October, said Washington would only consider using nuclear weapons under "extreme circumstances."
The US conducted its last underground test in 1992, but Lewis said the US has long been on a nuclear test alert.
Commercial satellite imagery over the Nevada Test Site shows that the underground facility - the U1a complex - was significantly expanded between 2018 and 2023.
A report by SIPRI (Stockholm International Peace Research Institute) says that Russia and the United States currently have about 90% of all nuclear weapons in the world, with the United States estimated to have more than 3,700 warheads and Russia about 4,500. Both countries keep their strategic nuclear arsenals on alert, meaning that nuclear weapons can be launched at short notice.
China's nuclear arsenal increased from 350 warheads in January 2022 to 410 in January 2023.
As reported by OBOZREVATEL:
- Propagandists on Russian television discussed which of the Ukrainian cities would be better to strike with tactical nuclear weapons. Odesa and Lviv were mentioned as options.
- Russia never tires of threatening Western countries with a nuclear strike. This time, one of the central Russian TV channels aired such threats against the United States.
Only verified information is available on our Telegram channel Obozrevatel and on Viber. Do not fall for fakes!