Trending:
Czech Defense Minister calls for Czech Republic's withdrawal from the UN over its position on Israel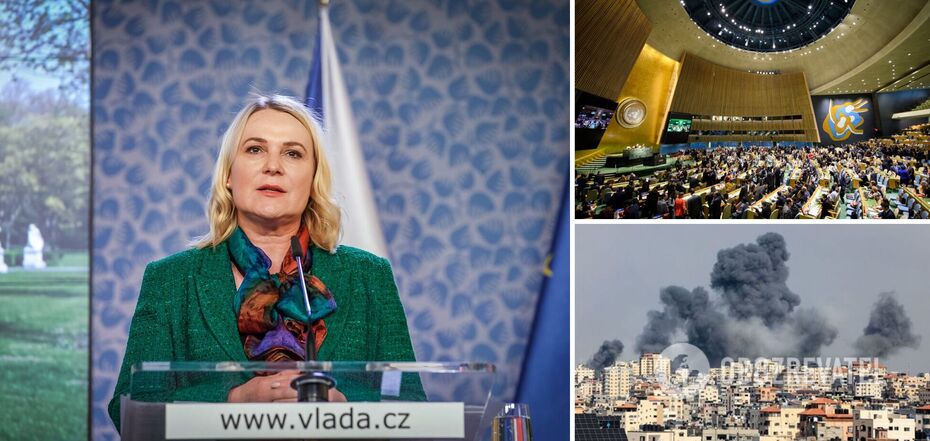 Jana Černochová believes that the Czech Republic should withdraw from the United Nations
Czech Defense Minister Jana Černochová has expressed her belief that the country should withdraw from the United Nations. The reason for this is the UN General Assembly resolution, which called for a "truce" between Israel and Hamas, but did not condemn the terrorist attack.
The official expressed her opinion on her page on the social network X (exTwitter). She recalled that three weeks ago, members of the group killed more than 1,400 Israelis, more than al-Qaeda militants in the United States during the September 11, 2001, terrorist attack.
At the same time, Černochová noted, only 14 countries, including the Czech Republic, spoke out clearly and unequivocally against this unprecedented attack by Hamas terrorists.
"I am ashamed of the UN. In my opinion, the Czech Republic has no place in an organization that supports terrorists and does not respect the fundamental right to self-defense. I propose to withdraw from it," the minister explained her position.
The resolution in question was adopted by the UN General Assembly on October 27. Ukraine, along with 44 other countries, abstained from voting. The document was supported by 120 states.
Representatives of 14 countries spoke against it. Among them were the United States, as well as Austria, Croatia, the Czech Republic, Fiji, Guatemala, Hungary, Israel, the Marshall Islands, Micronesia, Nauru, Papua New Guinea, Paraguay, and Tonga.
As reported by OBOZ.UA:
- On October 29, the Israeli Defense Forces allegedly suspended a ground operation against Hamas terrorists in the Gaza Strip. Instead of a full-scale invasion, the IDF decided to conduct more limited ground operations.
- In Russian Dagestan, on that day, locals organized a "hunt" for Israelis. Hundreds of people gathered at the airport in Kaspiysk to meet a flight from Israel in an "adult" manner.
- President Volodymyr Zelensky reacted to anti-Semitism in Dagestan. He noted that Russian hatred of other nations is systemic and deeply rooted. It encourages aggression and terror, so Ukraine is ready to cooperate with all international partners to overcome it.
Only verified information is available on our Telegram channel OBOZ.UA and in Viber. Do not fall for fakes!