Trending:
Clashes with police occur after pro-Palestine protesters attack Israeli embassy in Istanbul. Photo and video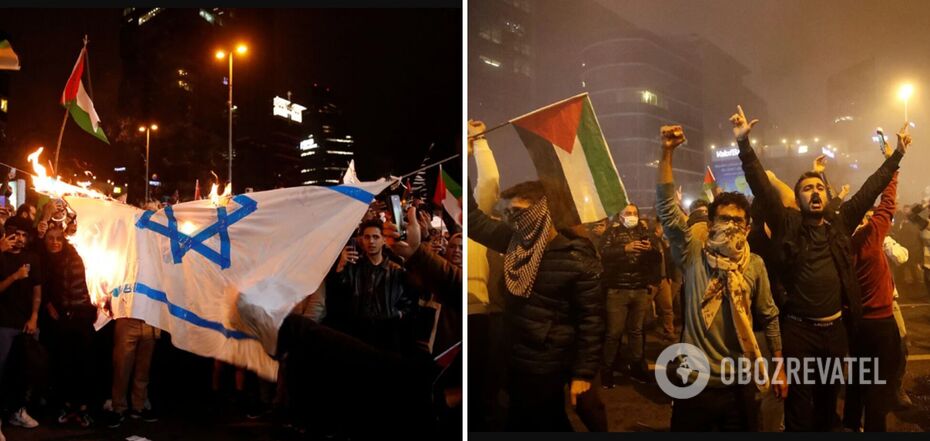 Large-scale anti-Israeli protests take place in Istanbul
After a rocket hit Al-Ahli Hospital in Gaza on October 17, killing hundreds of people, thousands of people in Turkey began protesting. They gathered near the Israeli Consulate General in Istanbul, shouted anti-Israeli slogans, and later attacked the building.
After the protesters attempted to break through the security cordons, the police used special means, with clashes breaking out. This was reported by the Turkish edition of SonDakika.
After a rocket hit the Al-Ahli Baptist Hospital in Gaza, killing hundreds of people, mass protests erupted in Istanbul. Thousands of people gathered in front of the Israeli Consulate General to protest. The participants of the mass action held the flags of Turkey and Palestine and shouted slogans such as "Murderer Israel, get out of Palestine" and "Turkish soldiers to Gaza". They also threw stones and set off fireworks at the Consulate General building.
Turkish police blocked traffic on two lanes near the Israeli Consulate and also took the building under guard. However, at some point, protesters began to break through the security barrier set up by the police. In response, law enforcement officers used pepper spray to disperse the protesters. Water cannons were also used.
Clashes broke out between the protesters and the police.
According to SonDakika, some protesters managed to break into the territory of the Israeli Consulate General.
On the evening of October 17, a rocket hit Al-Ahli hospital in Gaza, killing several hundred people, according to reports. Hamas blamed the Israeli army for the incident and called on Muslims around the world to protest. In response, Israel, citing its own investigation, blamed the Islamic Jihad group for the attack on the hospital.
Meanwhile, massive anti-Israeli protests broke out in Muslim countries. In Jordan, protesters set fire to the Israeli Embassy and tried to storm it. Protests also took place in Tunisia, Syria, Iran, and Lebanon.
The EU, the World Health Organization, the Arab League, and Turkish President Recep Erdogan condemned the explosions at the hospital in Gaza.
Jordan also canceled Joe Biden's meeting with Arab leaders, which was scheduled for Wednesday, October 18. The US President was to meet with King Abdullah of Jordan, Egyptian President Abdel Fattah Al-Sissi, and Palestinian Authority President Mahmoud Abbas in Amman to discuss Israel's war with Hamas.
Only verified information is available on OBOZ.UA Telegram and Viber. Do not fall for fakes!