Trending:
A video showing Azerbaijan's strike on the base of Russian "peacekeepers" in Nagorno-Karabakh appeared online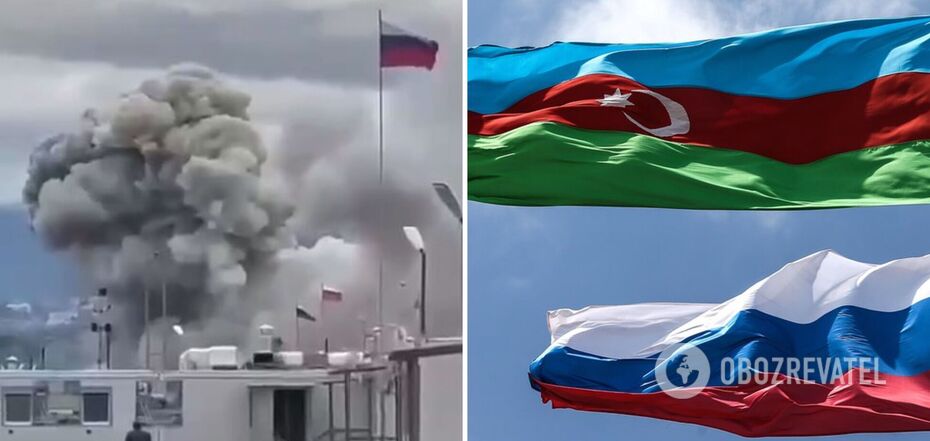 Azerbaijani army strikes on the base of Russian ''peacekeepers''
A video showing Azerbaijan's strike on the base of Russian "peacekeepers" in Nagorno-Karabakh appeared online. Russian media was banned from publishing information about the attack, as the Kremlin is afraid of damaging relations with Turkey and Azerbaijan.
The video was published by the Wind Sower Telegram channel. They noted that the explosion at the "peacekeepers" base occurred a few days ago. It was so powerful that a "mushroom" of smoke went up in the air. The footage has appeared online just now (to watch the video, scroll to the end of the news).
Moreover, none of the Z-propagandists are hysterical with demands to strike Baku, as is usually the case with Kyiv, the channel's authors noted. They are convinced that Moscow's fear of severing relations with its remaining partners is so great that it is ready to endure any humiliation from these countries.
As a reminder, the deputy commander of Russia's "peacekeeping" forces for military and political work, Ivan Kovgan, was also killed in unrecognized Nagorno-Karabakh. The captain of the 1st rank was killed on September 20, 2023. The UAZ in which the "peacekeeper" was traveling was shot.
On the same day, September 20, the so-called authorities of Nagorno-Karabakh accepted the proposal of the Russian "peacekeeping mission" and announced an agreement with Azerbaijan to cease hostilities.
As reported by OBOZREVATEL:
- On September 19, Azerbaijan announced the launch of an anti-terrorist operation in Nagorno-Karabakh, which resulted in the largest escalation since 2020. On the first day, 32 people were killed, including seven civilians, more than 200 others were injured, and 7,000 were evacuated.
- Russian propagandist Margarita Simonyan said that Armenians should "bow down" to the terrorist state of Russia. According to her, this nation allegedly owes Russia for its existence.
- Armenia called on the UN to send a peacekeeping contingent to Nagorno-Karabakh. Yerevan also wants all Azerbaijani security forces to withdraw from the region.
Only verified information on our Telegram Obozrevatel and Viber. Do not fall for fakes!