Trending:
Zelenskyy told how many Patriot systems Ukraine needs to fully protect its skies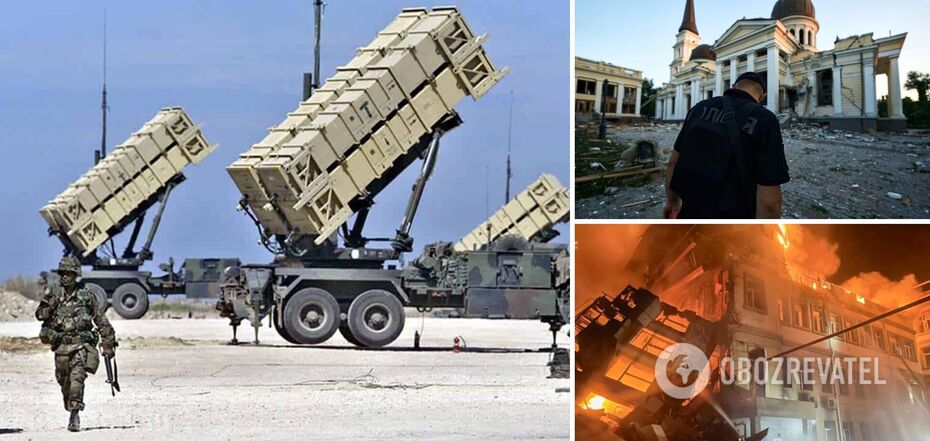 Presidential Administration tells how many air defence systems are needed to close the skies over Ukraine
To protect itself from Russian attacks on Ukraine's peaceful cities and civilian infrastructure, our country needs to significantly increase its air defence capabilities. The recent attacks by Russian troops on Odesa and Mykolaiv have demonstrated that the aggressor state has set a course to overload Ukraine's air defence and simultaneously hit important infrastructure, including grain and port facilities, with ballistic missiles.
The two Patriot systems provided by our partners helped to almost completely protect Kyiv from attacks; at least 10-12 such systems are needed to close the skies over the whole of Ukraine. This was stated by Mykhailo Podolyak, advisor to the head of the Office of the President of Ukraine, in an interview with The Guardian.
Podolyak noted that without a significant increase in the number of air defence systems, Ukraine will not be able to fully protect itself from Russian missiles and kamikaze drones. Russia is also aware of this. That is why, as evidenced by the recent brutal attacks on Odesa and Mykolaiv, the military command of the aggressor state has adopted the tactic of bombing to suppress air defence systems.
"Russia's tactics are clear: they use massive drone attacks to overwhelm our air defence systems, and then in parallel they have the opportunity to use ballistic missiles against infrastructure," he said.
In the case of Kyiv, this tactic is no longer working. After all, it has a sophisticated, multi-level air defence system that includes Western equipment. But Odesa, Mykolaiv and other cities in the Ukrainian south are far from being as well protected. So in recent days, the enemy has managed to strike numerous times at grain and port infrastructure, as well as at residential areas and the UOC-MP cathedral.
The Russians have started using Oniks anti-ship missiles, which Ukrainian air defence systems are practically unable to shoot down.
"We lack modern anti-aircraft systems, such as Patriot, which are capable of hitting Russia's latest generation of missiles, such as Oniks and Kinzhal. The shortage of these systems means that we cannot cover all regions of the country," Podolyak said.
A few months ago, Germany and the United States provided Ukraine with two Patriot systems, which are now defending the capital and helping to shoot down almost 100% of enemy air targets launched at Kyiv.
At least 10-12 more Patriot systems would help to secure the skies over the entire country, Podolyak said. He noted that such assistance from the West would be the right decision from both a moral and economic point of view.
"It will be much more expensive to repair all this (destroyed infrastructure - Ed.) later than to provide the Patriot system to protect the south," Podolyak said.
Earlier, it was reported that Germany is preparing a new €700 million military aid package for Ukraine. It will include two Patriot air defence systems, 40 Marder armoured personnel carriers, 25 Leopard 1A5 tanks, as well as artillery, ammunition and drones.
It has also been reported that in recent days, Russia has launched a series of strikes on Odesa and Mykolaiv. In particular, on the night of 23 July, the occupiers staged another attack on Odesa: the strikes resulted in a death and injuries. Residential buildings and the Transfiguration Cathedral of the UOC-MP, the largest and most famous church in Odesa, were damaged.
After it became known about the destruction of the cathedral, the Russian Ministry of Defence stated that "terrorist attacks against Russia were being prepared in the Odesa cathedral". And Kremlin propagandist Olga Skabeyeva even claimed that Ukraine had shelled the cathedral in Odesa.
And on the night of 27 July, the occupiers struck at night at the port infrastructure of Odesa region: there was a casualty.
The enemy carried out attacks on other days as well.
Only verified information is available in our Obozrevatel Telegram channel and Viber. Do not fall for fakes!