Trending:
"We will definitely finish it off": colonel gave a forecast for the Crimean bridge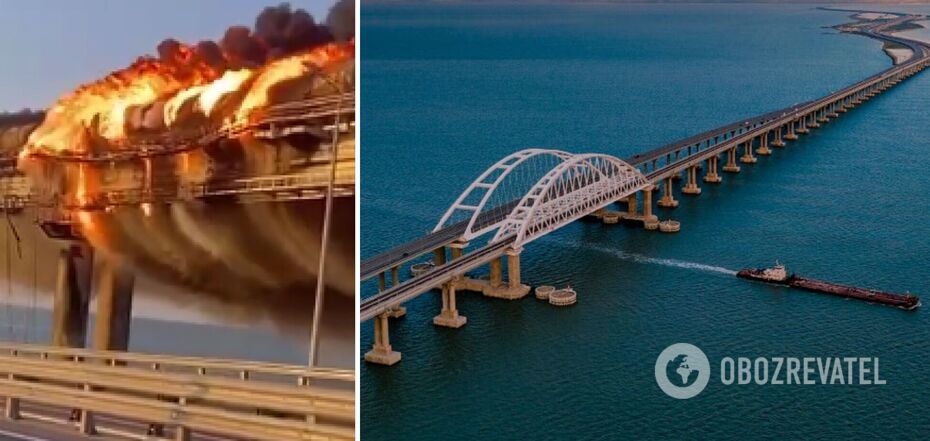 Crimean bridge will be destroyed: Col.
The Crimean (Kerch) bridge will inevitably be destroyed. Currently, the Ukrainian Defense Forces are determining the most optimal of the many available mechanisms for the destruction of this object of the aggressor state of Russia.
This was told in an exclusive interview with OBOZREVATEL by pilot-instructor, colonel of the AFU in reserve, military expert Roman Svitan. "We will definitely finish it off. It's just that there are many mechanisms how to do it. Not all of them have been used yet. Now we are trying to find the most effective mechanism," he explained.
The military expert noted that the invaders are trying with all their might to protect the Crimean bridge from attacks, resorting to special measures. "The Russians are trying to somehow cover it from all sides, almost with the sides of ships," Svitan said.
According to him, there are more and more dangers for this structure. These are, in particular, surface and underwater drones, as well as weapons provided by Ukraine's allies. At the same time, the chance of destroying the bridge will increase significantly when the Defense Forces reach the Sea of Azov.
"Taurus or the possibility of shooting the same Storm Shadow closer to the bridge will appear. I think that in the next one and a half to two months we will approach the Azov coast, break through the front, and this will make it possible to work along the Crimean bridge at a distance of 150 kilometers with the means that we have."
"He will definitely be minus, he does not have long to live, as they have specifically taken up for him. It is a matter of time", - summarized the expert.
As wrote OBOZREVATEL, after the latest attacks on the Crimean bridge Russian occupants hastily strengthened the defense of this object. Near it organized round-the-clock duty at least ten warships.