Trending:
Ukraine's access to the Sea of Azov: General names priority directions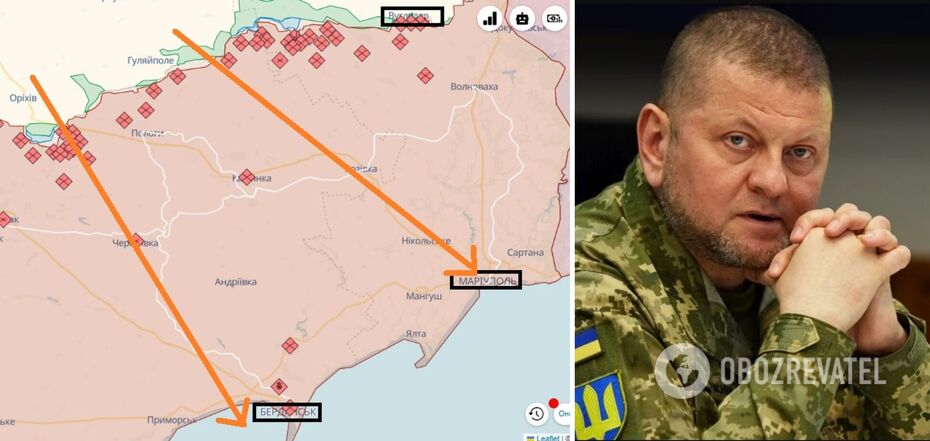 The general named the priority directions of the AFU's access to the Sea of Azov
The Melitopol, Berdyansk and Vuhledar directions are the most promising from the point of view of the Ukrainian Defense Forces' offensive to reach the coast of the Sea of Azov and cut the land corridor between the occupying country Russia and Crimea. But before making a final decision, it is necessary to identify the enemy's weak point.
This opinion in an exclusive interview with OBOZREVATEL was expressed by former Deputy Chief of General Staff of the Armed Forces of Ukraine, Lieutenant General Ihor Romanenko. "This is a very serious and responsible decision of the military leadership of Ukraine, first of all, General Zaluzhny," he noted.
"To realize any of these directions or, perhaps, to find another, first of all, it is necessary to find the enemy's weak point. He is stretching his forces along a front stretching 1,500 kilometers and engaging reserves," the general stated.
According to his estimates, the Ukrainian Defense Forces can accumulate the forces necessary for a breakthrough until the end of August - early September. "By the end of this month - the beginning of the next month to accumulate forces to strike with the use of weapons from allies and own production," Romanenko added.
He noted that the Ukrainian army was inferior to the occupier's army in some positions, primarily in terms of "sky cover" and aviation. Nevertheless, "in order to make a final choice, it is necessary to know deeply the state of the enemy at that moment - both our and allies' intelligence work," he said.
The general added that this is an extremely important and responsible decision of our country's top military leadership, as it would take a long time to once again gather a reserve of this size.
As OBOZREVATEL wrote, the adviser to the Mariupol mayor Petro Andryushchenko said that the Russian occupation troops began to strengthen their defenses on the Nikolsky direction near Mariupol. Here the enemy is also actively using aviation.