Trending:
Ukraine is preparing a massive UAV attack against Russia for the winter, - Brigadier General Baranov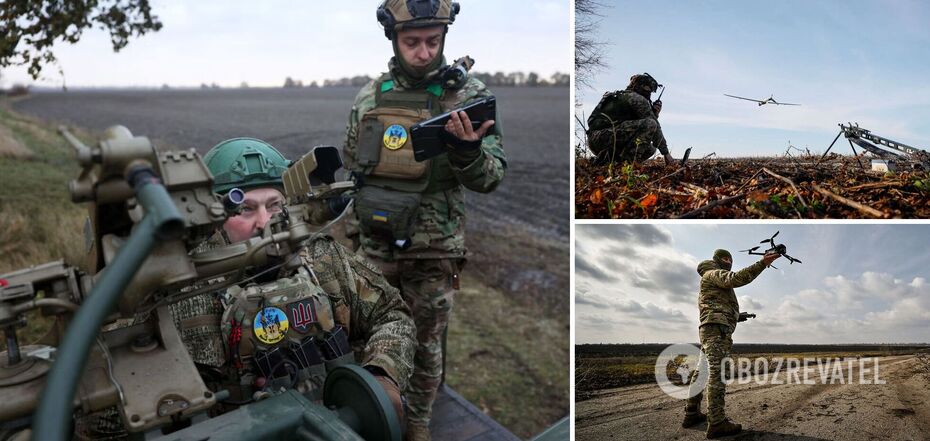 Ukraine prepares massive winter drone attack against Russia
Ukraine is preparing to launch a major winter drone attack against Russia as weather conditions hamper the Defense Forces' ground offensives at the front. The new air strikes will target bases and military infrastructure in the temporarily occupied Crimea and border areas inside the aggressor country.
This was reported by The Independent. The journalists refer to a conversation with Brigadier General Serhiy Baranov, the head of the Armed Forces of Ukraine's military unit that deals with UAV operations.
According to him, Ukraine intends to consolidate "significant successes" over the past few weeks of the war, which have resulted in some of the most important military installations, including Russian naval facilities, being targeted by Ukrainian UAVs.
The analysts reminded that as part of the counteroffensive, the Ukrainian Armed Forces launched waves of drones deep into western Russia and the seized Crimean peninsula. They also intensified attacks on the Black Sea, where the aggressor country keeps its valuable naval assets, and attacked Russian warships with naval drones. And with the help of saboteurs, Ukraine has even attacked air bases deep in Russia, destroying a Tu-22M long-range bomber and damaging two other aircraft.
Although Kyiv has now come to rely heavily on domestic drone production and operator training, military assistance from Western allies has also supported the campaign. In May 2023, the British government pledged to provide Ukraine with a UAV with a 200 km range.
"We intend to benefit from the experience gained in previous years and use drones to inflict a devastating effect on the Russians when the fighting is much more static this winter. We are confident that we have some of the best and most experienced drone pilots in the world," the newspaper quoted General Baranov as saying.
It is noted that last winter there was a certain lull at the front in Ukraine, as snow and low temperatures made most of the Donbas region impassable. But this year's preparations for winter could prove crucial to the outcome of the war, as Ukraine seeks to prevent Russia from regrouping during a break in its counteroffensive.
According to General Baranov, Kyiv also expects Russia to launch "numerous counterattacks." This is in line with growing rumors that the aggressor has been mothballing its missiles and drones in recent weeks to strike hard at Ukraine's energy infrastructure in early winter, intending to deprive Ukrainians of electricity and heat.
"The Russians are cautious, they have a lot of personnel and a lot of resources. They have been preparing for a war of this magnitude for a long time. War is expensive for the Ukrainian people," the military said.
Asked why Ukraine has been targeting targets in Crimea in recent months, Baranov said that Kyiv sees the territory as an important logistical link for Russian ground forces.
"The Russians have concentrated ammunition, equipment and personnel there. The task is to try to create the impression that this is Russian territory. But it is not. We are aggressively fighting this," the general said.
In his opinion, Ukraine will be fully prepared for the winter only if its urgent needs in weapons are met.
"In particular, we need 155-millimeter ammunition. We also need a lot of long-range munitions, such as GMLRS and ATACMS. F-16 aircraft and additional air defense systems will help protect our airspace and enable us to launch a strike to defend our territory," Baranov said.
He added that for the Ukrainian Armed Forces to succeed against Russia, they need the same amount of ammunition as the occupiers are spending. The Ukrainian military thanked the partners for their help, but noted that the Defense Forces are fighting a war on several fronts, so any additional ammunition is a bonus.
Answering a question about the latest developments in the battle for Avdiivka, he reiterated the statements of the Ukrainian authorities and Western intelligence agencies that Russia has suffered very heavy losses in its efforts to capture the city.
The general emphasized that the enemy used a large number of inexperienced and recently mobilized troops in the offensive, while making no effort to bring back the dead from the battlefield. In one 24-hour period last week, the Russian Armed Forces lost "about 20 armored vehicles and 250 soldiers killed and wounded."
"They are still lying on the battlefield, and the Russians continue to storm our positions. Their biggest weakness is that they continue to send unprepared people - mobilized resources. They are bad and not ready for battle, so they suffer heavy losses," said General Baranov.
As reported by OBOZ.UA, according to media reports, Washington may provide the Ukrainian Armed Forces with a large batch of Switchblade 600 kamikaze drones. Their range would allow defenders to hit enemy armored vehicles far behind the front line.
And not long ago, Ukraine created a new kamikaze strike drone that can hit targets at a distance of 700 km. It also carries 50 kg of explosives and is "almost impossible" to shoot down.
Only verified information is available on our Telegram channel OBOZ.UA and Viber. Do not fall for fakes!