Trending:
This is what ecocide looks like: in the Kherson region because of the explosion of the Kakhovka HPP mass death of fish. Photo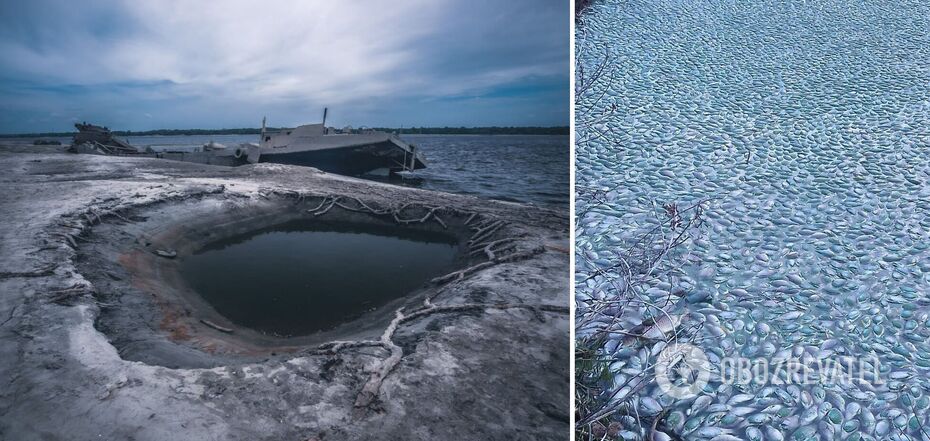 Mass fish kill continues in Kherson region
After the Russian occupants blew up the Kakhovka HPP in the south of Ukraine, a large-scale ecological disaster occurred. In particular, a mass fish kill has been recorded in the Kherson region.
The shocking photo with thousands of dead fish in the shallowed reservoir was published by Darya Zarivna, adviser to the head of the Ukrainian Presidential Communications Office. She called the actions of the invaders in Ukraine ecocide.
"Mass Fish Morbidity in the Kherson Region. This is what ecocide looks like as a result of the Russian terrorist attack on the Kakhovka HPP," Zarivna wrote.
As a reminder, in the morning of June 6, it became known that the occupants had blown up the Kakhovka HPP, flooding dozens of settlements, including Kherson.
It later became known that the Russians had raised the water level to a record 17.5m² shortly before the Kakhovka hydroelectric plant was blown up.
Ukrainian President Volodymyr Zelensky called the Russian attack the largest man-made eco-catastrophe in Europe in decades, while Western leaders one after another called Russia responsible for blowing up the Kakhovka HPP and noted that "terrorists do not stop if they are not stopped.
The SSU later released an intercept of the hijackers' conversation, admitting that the Kakhovka HPP had been blown up by a sabotage group of occupants. The USA said that American satellites had detected an explosion at the Kakhovka hydropower plant before it was destroyed.
According to Greenpeace, 32 factories, gas stations, thermal power plants and warehouses were flooded because of the explosion of the Kakhovka hydropower plant.
In the first days of the disaster, at least 150 tons of motor oil leaked into the water. Greenpeace stressed that the destruction of the dam could lead to further leakage of chemicals, oil and gasoline used in residential, agricultural, industrial and commercial areas under water.
The organization predicted, in particular, enormous consequences for aquatic organisms in the Dnieper River, which would negatively affect the habitat of fish, birds, amphibians and animals and pollute their habitat.
And these predictions quickly began to come true: already on June 7, a fish kill was recorded in four regions of Ukraine.
Meanwhile, the OC "South" warned that Russian troops may arrange new man-made disasters in Ukraine.
Only verified information in our Telegram channel Obozrevatel and in Viber . Do not be fooled by fakes!