"This is the bottom": Ukrainians reacted to Navalny's wife's performance at the Oscars 2023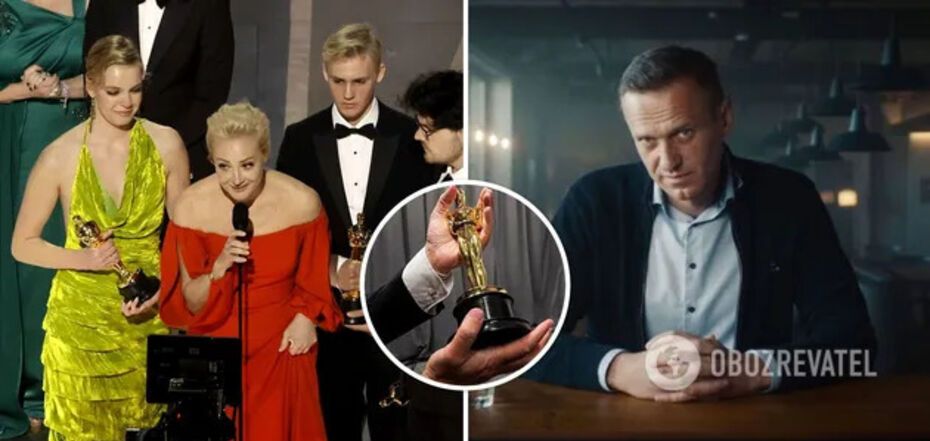 Ukrainians reacted to Yulia Navalnaya's speech at the Oscars 2023
For two years in a row, the American Academy of Motion Picture Arts and Sciences has not allowed Ukrainian President Volodymyr Zelenskyy to address the world community at the Oscars, arguing that it's so-called apolitical. Nevertheless, the wife of Russian opposition leader Alexei Navalny, whose film won the Best Documentary Feature nomination, was allowed to speak. As expected, this caused a flurry of criticism among Ukrainians.
Internet users are trying to understand why an "apolitical" film Academy gives a platform to "good Russians" who tell how they "fight for democracy." At the same time, the real sacrificial struggle of Ukrainians for the democratic future of the civilized world is completely ignored at the ceremony. OBOZREVATEL collected reactions from social media.
Ukrainians are convinced that "A House Made of Splinters", produced by Denmark, Ukraine, Sweden, and Finland, about Ukrainian children in the war in Donbas, which was presented in the same nomination as "Navalny", deserved to win more. But it's not about the film in the first place, it's about the cynicism of the Academy Award organizers, who hide their indifference to the war and tolerance of Russia with a pretense of neutrality.
"Just shows that the Oscars are not about quality or even topicality. It [the film "Navalny" - Ed.] was created before 2022, and only gained it's popularity because russia's war of aggression & the west's love for a good underdog story, "standing up" to putin... the Ukrainian doc deserved the acknoledgment," one user wrote.
Commentators didn't hide their negative attitude and disappointment with the Oscars.
They write under the news about Navalny: "This is the bottom," "Cesspool. What do millionaires care about deaths in Ukraine?", "Moscovia is a democracy... It has never been and will not be characteristic of them", "The American dream of "good Russians", and "Navalny is the same imperialist as Putler, only the West still does not understand this. There are no democrats in Moscovia".
The social media also mentioned Navalny's response to the question about the return of Crimea to Ukraine. He said: "Is Crimea a sausage sandwich or what, to return it back and forth?" This expression clearly describes the imperialist sentiments of Putin's opponent, proving that "against Putin" does not equate to "for democracy."
"Give him a golden sandwich," "Ignore film about Ukrainian kids on frontline town, but give Oscar to a film about a guy who supports the occupation of Ukrainian territory. Shame!" commentators wrote online.
The first memes on this topic have already appeared. For example, the famous chef Yevhen Klopotenko used a clear example of food to demonstrate how the Academy sees Navalny and how Ukrainians see him.
And someone showed where Yulia Navalnaya should actually perform to make her speech about "good and unhappy Russians" look even more absurd and cynical.
Recall, the only people who mentioned and supported Ukraine at this year's Oscars were filmmakers from Poland. Actor Mateusz Kościukiewicz and cinematographer Michał Dymek, who represented the Polish feature film "EO" by Jerzy Skolimowski at the award, appeared in front of the paparazzi with blue and yellow ribbons.
Earlier, OBOZREVATEL wrote:
Only verified information on our Telegram Obozrevatel channel and Viber. Don't fall for fakes!