Trending:
"They were shooting from all sides, we didn't know where we were thrown": a prisoner of war from Veterans PMC complained about the "order" in the occupiers' ranks. Video.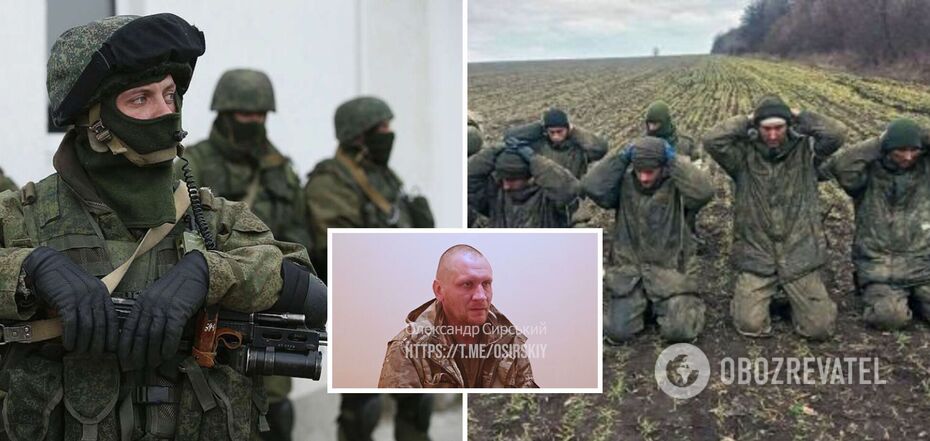 The captured occupier told about the ''order'' in the ranks of the invaders
A captured Russian occupier, a mercenary of the Veterans PMC Sergei Bulychev from the Trans-Baikal Territory of the Russian Federation, previously convicted, spoke about the "order" in the ranks of the invaders. He complained about how scared he was to get to the front, with little or no preparation, and called his meeting with the Ukrainian Armed Forces a "salvation".
The video of the prisoner's interrogation was posted on Telegram by the commander of the Ukrainian Army, Colonel-General Oleksandr Syrskyi. The occupier said that the military enlistment office offered to "write off" all his convictions if he went to war, and the contract specified a good salary.
However, upon arriving in Ukraine, the former convict realised that everything would not be so smooth. The mercenaries were thrown to the frontline like meat.
"It's constantly exploding. You just hear shrapnel overhead and trees falling. You can't get out, you can't stick your head out. We even went to the bathroom right there in this pit. Because it was scary to get out, everything was torn," Bulychov said.
"They said that if they killed us, it would be as if we had never been there. Because they didn't take our badges, nothing, no identification marks. How would they recognise us? They just threw us somewhere, where there is constant bombing. In fact, we are not registered anywhere, we are mercenaries. And if all of us are killed, it's like we never existed," the occupier complained.
"We were sitting for two days without food, without water, in a pit, afraid to get out. They were shooting from all sides. It is not even clear where we were. Because we were thrown in at night. In general, it was scary. Then there were explosions and explosions - we never got out. Then the Ukrainian soldiers came and we ended up here. Otherwise, I don't know, we probably would have died there," the Russian said.
To recap, another captured occupier from the Veteran PMC told how he was sent to the front without training and threatened with death for refusing to fight.
"All of us together, all three companies, said that we were not going anywhere, we had no training, no idea what the front line was like. We were told that if you don't go, we will load you into a KamAZ truck and no one will see you again. I don't know where to run to..." - the prisoner said.
As OBOZREVATEL previously reported:
- fighters of the 59th Separate Motorised Infantry Brigade named after Yakov Handziuk captured 22 kafirs from the special unit of the Russian Ministry of Defence "Storm". Seven of our reconnaissance men captured this number of invaders;
- Chief of the Defence Intelligence of Ukraine Kyrylo Budanov called on the Russian occupiers to surrender. To do this, they need to contact the I Want to Live project.
Only verified information is available in our Obozrevatel Telegram channel and Viber. Do not fall for fakes!