Trending:
"They are knocking the Russians out of their positions": Syrskyi shows how the Ukrainian Armed Forces are destroying enemy equipment near Bakhmut. Video.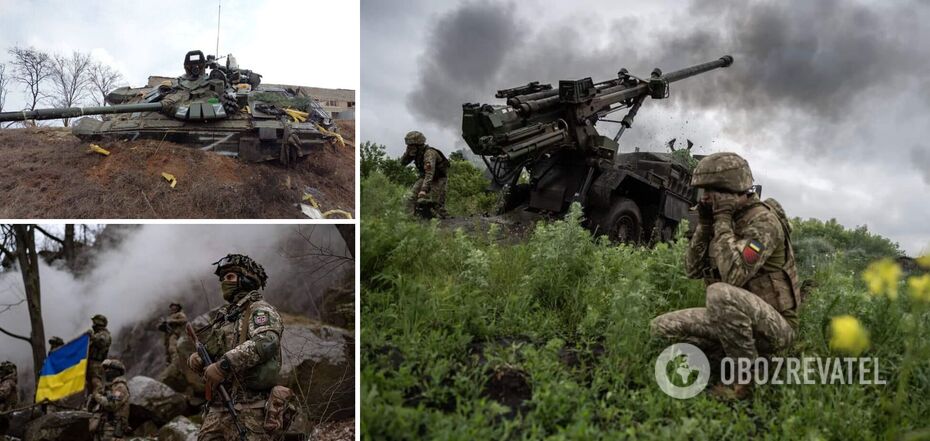 Ukrainian Armed Forces conduct heavy fighting in the Bakhmut sector
In the east, Ukrainian soldiers continue to inflict losses on the Russian occupiers. Near Bakhmut, artillerymen of the 28th Separate Mechanised Brigade destroyed two units of Russian armoured vehicles.
The video of the destruction was shown by the Commander of the Land Forces of the Armed Forces of Ukraine Oleksandr Syrskyi. He added that the defenders are successfully driving the Russians out of their positions in the Bakhmut sector.
"The artillery of the 28th Separate Mechanised Brigade destroyed two units of enemy vehicles in the Bakhmut sector. The enemy is steadily losing armour near Bakhmut, our soldiers are driving the Russians out of their positions," commented Syryskyi.
According to the commander of the Land Forces of the Ukrainian Armed Forces, the situation in the east remains tense. The enemy continues to deploy its most capable units near Bakhmut.
"The situation in the area of responsibility of the Eastern group of troops remains tense. Despite the offensive of our troops in the south and the loss of territory and settlements in this area, the enemy continues to move some of the most capable units to the Bakhmut direction, combining these actions with powerful artillery fire and strikes by attack aircraft on the positions of our troops," noted Syrskyi.
He added that Ukrainian soldiers continue to liberate their homeland in Donetsk region in heavy fighting.
"We continue to conduct offensive actions in certain areas, occupying the dominant heights and forest belts to gradually drive the enemy from the approaches to Bakhmut. Understanding this, enemy units are putting up fierce resistance. Therefore, it is clear that our plans need to be periodically adjusted and refined. This is the focus of my work in the troops. I held a meeting with unit commanders, discussed problematic issues and identified ways to solve them... As always, we know what we are doing, why and how," Syrskyi assured.
Earlier, Sky News reported that the "strategically unimportant" Bakhmut cost Russia 60,000 military killed and wounded. About a third of them were members of the Russian army, the rest were mercenaries, in particular, the Wagner PMC.
Meanwhile, the British Ministry of Defence estimates that for every 48 cm captured in Bakhmut, Russian troops lost a soldier.
Only verified information is available in our Obozrevatel Telegram channel and Viber. Do not fall for fakes!