Trending:
The occupants shelled Kostiantynivka, 16 people died, including a child. Photo and video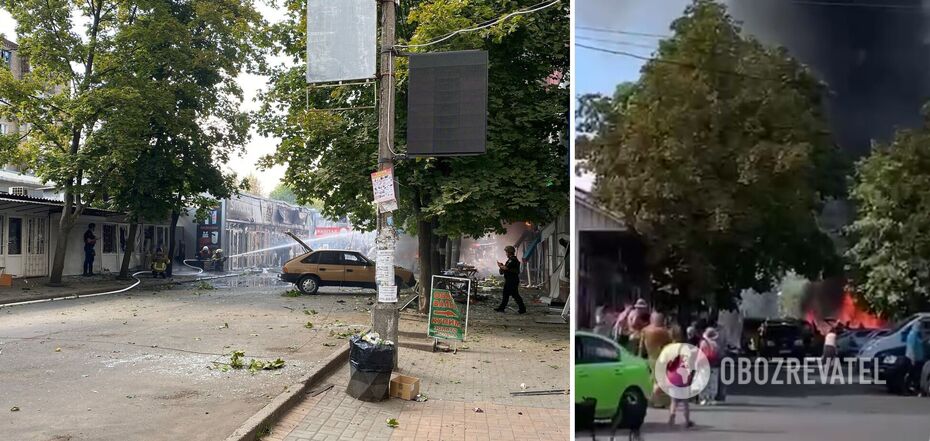 Russian troops hit Kostiantynivka on September 6
In the afternoon of September 6, Russian troops shelled Kostiantynivka. Russian shells hit the market where many people were.
At least 16 peopledied , among them a child, 28 civilians were wounded. Ukrainian President Volodymyr Zelensky reacted to the Russian attack.
On September 6, Russian occupants shelled a market in Kostiantynivka.
"When someone in the world is still trying to deal with something Russian, it means closing your eyes to reality. The insolence of evil. The audacity of meanness. Full-blown subhumanity. At this point, Russian terrorist artillery has killed 16 people in the town of Kostiantynivka, Donetsk region. An ordinary market. Stores. Pharmacy. People who are not guilty of anything. Many wounded. Unfortunately, the number of dead and injured may still increase. My condolences to everyone who lost relatives! As soon as possible to defeat this Russian evil", - wrote the head of state.
According to Ukrainian Prime Minister Denis Shmygal, at least 20 wounded were known as of 15:00. Among those killed by Russia is a child.
"As a result of the shelling of the market it is already known about 16 dead, including 1 child. At least 20 people are wounded. My sincere condolences to the families and loved ones. All services are working. The fire has been localized. We are helping the victims. Thank you to the rescuers, police and medics who are working on the spot," the head of government wrote.
Subsequently, the number of victims increased. As of 16:00, according to Interior Minister Ihor Klymenko, as a result of the enemy shelling, 28 people were injured of varying degrees of severity, among them a rescuer.
"Russia shelled the market in Kostiantynivka, Donetsk region. Affected 44 people: 16 killed and 28 traumatized. Among the injured is a rescuer. State Emergency Situations Service and police are conducting a search and rescue operation. Debris removal continues. Police paramedics and doctors are providing medical care to the injured. Rescuers promptly eliminated the fire on the area of 300 square meters. About 30 trade pavilions were damaged," Klimenko said.
The first reports about the strike on a peaceful town in Donetsk region appeared after 2 pm.
"In Kostiantynivka a terrible arrival. According to the incoming reports - in a crowded place. There are no details at the moment," - reported at 14:13 public "Typical Kostiantynivka".
It then clarified that the arrival site is "very crowded," with eyewitnesses from the site reporting a large number of injuries and fatalities.
The "Suspilne" correspondent noted that the enemy shells hit the territory of a civilian facility.
"There are dead and wounded among civilians," the report said.
Meanwhile, a Radio Liberty correspondent from the scene reported that 16 people were tentatively killed.
News is supplemented by.