Trending:
The number of victims of the Russian missile strike on Kryvyi Rih has risen to 10: a day of mourning has been declared in the city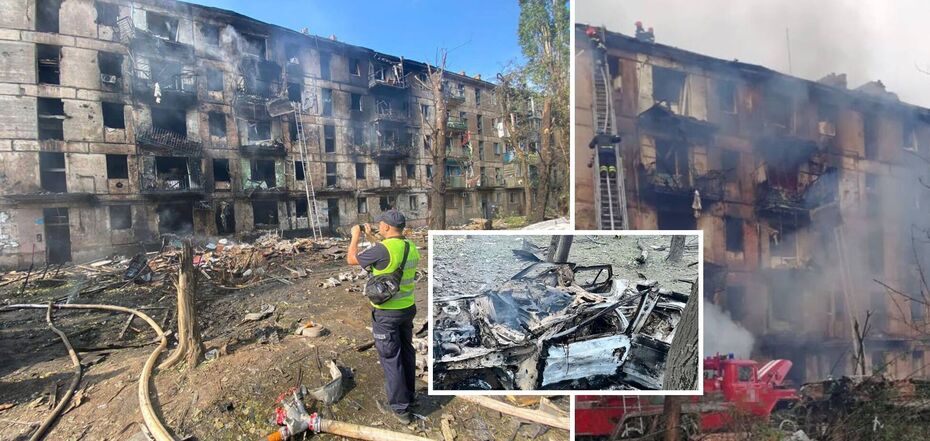 Rescue operation continues
The number of victims of the Russian missile strike on Kryvyi Rih has grown to 10 people. Wednesday, June 14, is declared a day of mourning in the city.
This was announced by the head of the military administration of Kryvyi Rih Oleksandr Vilkul as of 13:00. According to him, one person is under the rubble.
Another 28 people were injured, 12 of them - in hospitals in the city in medium, serious and very serious condition.
The rescue operation continues.
In turn, the head of the Dnipropetrovsk regional military administration Sergiy Lysak said that the bodies of the six dead were taken out from under the rubble of the warehouse of a private enterprise. Rescuers are looking for one more person there.
Four people died as a result of the impact on a five-story building.
As reported by OBOZREVATEL:
- The Russian Army on the night of June 13 struck Kryvyi Rih in Dnipropetrovsk region, an apartment building came under fire. Fires broke out on the sites of the arrivals, 10 people were killed and dozens were injured.
-The victims of the strike on Kryvyi Rih included a married couple who were only 22 years old.
- Footage of the aftermath of the airstrike has hit the web. People told how they fled from the destroyed apartments.
- Ukrainian President Volodymyr Zelensky condemned another Russian terrorist attack and said that there will be no forgiveness for Russian war criminals.
- That night also sounded explosions in Dnepr, two arrivals are known in Kharkov, and around Kiev, air defense forces destroyed all enemy targets.
- According to the AFU General Staff, the Russian Federation attacked Ukraine with 14 X-101/555 cruise missiles and four "shaheds." Air defense destroyed 10 missiles and one UAV. In the morning, another cruise missile was destroyed during a second air attack.