Trending:
"The main force of the strike was directed at people": the Prosecutor General's Office told details of Russia's rocket attack on Chernihiv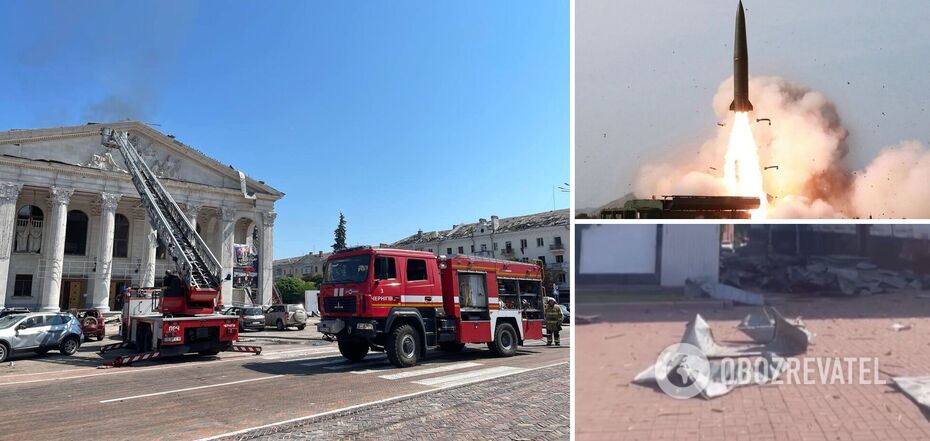 Russia, attacking Chernihiv, tried to kill as many people as possible
The Iskander-M ballistic missile that hit Chernihiv on August 19 was programmed to detonate in mid-air. This may mean that the target of the attack was not so much the Drama Theater building as people.
Yuriy Belousov, head of the Department for Countering Crimes Committed in the Armed Conflict within the Prosecutor General's Office of Ukraine, said this on the air of a telethon on August 20. The data voiced by him were collected by Ukrainian investigators.
"Russia has used the Iskander-M missile. And there are several settings of this missile. The missile was configured in such a way that it exploded in the air," the Prosecutor General's Office of Ukraine official said.
He explained: such an explosion is used to increase the defeat of living forces in open terrain.
Undoubtedly, the theater building was damaged. "But there is an assumption that the main force of the explosion was directed at the surrounding people," believes the head of the Department.
He also said that investigators are establishing the persons involved in the shelling (both those who gave the order and those who carried it out). All circumstances related to the organization of the exhibition are also being studied.
According to Belousov, the identification of persons from among the command staff of the Russian Armed Forces, who gave the order to carry out this strike and the specific military unit, which directly launched the missile, is now ongoing.
The version about the targeting of the strike by enemy agents on the territory of Ukraine is also being worked out.
As OBOZREVATEL wrote:
- Because of the arrival of the occupants' missile in the center of Chernihiv killed seven people. The number of injured - 156. Of them 41 are in the hospital.
- In particular, the victim of the attack was 6-year-old Sofiyka, whose father is defending the country at the front. The girl's mother was hospitalized in serious condition.
- Chernihiv Drama Theater is one of the oldest regional theaters in Ukraine, established in the 1920s during Ukrainianization in the Ukrainian SSR. How it looks like inside after the missile attack - see at the link.
Only verified information from us in Telegram-channel Obozrevatel and in Viber. Do not fall for fakes!