"That's President Zelenskyy's call": the Pentagon assessed the course of the battle for Bakhmut and noted the heroism of the Armed Forces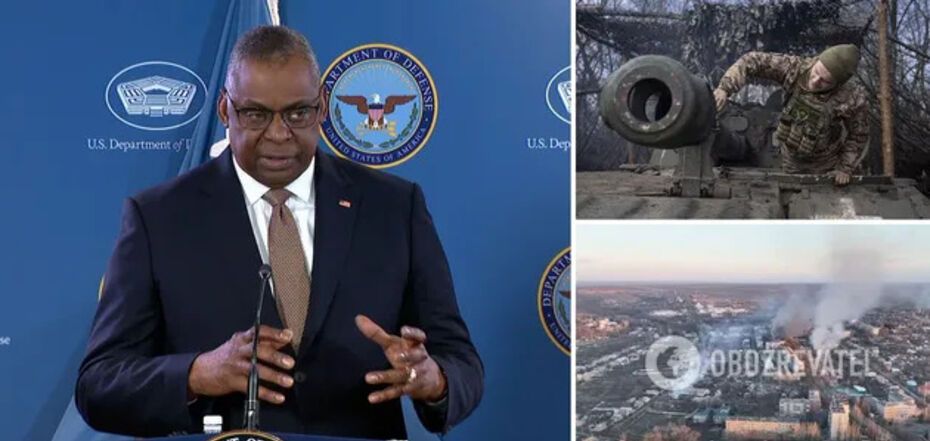 Lloyd Austin assessed the course of the battles for Bakhmut and noted the heroism of the Armed Forces of Ukraine
The Pentagon says that Bakhmut has "more symbolic than strategic and operational value" in Russia's war against Ukraine. At the same time, they emphasized that it is up to the leadership in Kyiv to decide whether to regroup the Defense Forces or stay and continue to defend the fortress city in the Donetsk region.
This opinion was expressed by U.S. Secretary of Defense Lloyd Austin at a briefing after a meeting of the Ukraine Defense Contact Group (the Ramstein group) on March 15. The press service of the U.S. Defense Department quoted his words.
"In terms of the significance of Bakhmut, I would say -- I would point to the fact that President Zelenskyy is fighting this fight, and he will make the calls on what's important and what's not important to his forces, and whether he needs to reposition or remain in Bakhmut," the Pentagon Chief said.
According to him, if the Supreme Commander-in-Chief orders the Defense Forces to reposition at some point, it does not mean that the war is lost.
"It can only mean, and will mean, that he intends to maintain the advantage. And that's the real key there," Austin said.
He admitted that he applauded the valor, the persistence of the Ukrainian soldiers who "did amazing things in Bakhmut."
"The Russians have been working to take the city for about seven months or so now, and they haven't been very successful, and that's because of the diligence, the commitment, the focus of the Ukrainian soldiers," the U.S Secretary of Defense stated.
He also assured that Ukraine's allies and partners are generating combat capabilities that they believe would give the Ukrainian Armed Forces the ability to change the dynamics ob the battlefield to go forward at some point and counterattack.
"Whatever point that is, whatever -- you know, whatever they want to do in the future, I think the -- the [weapons] platforms, the -- the training, the sustainment, the maintenance that we're providing is -- it will make a significant difference [on the battlefield]," the Pentagon Chief said.
As OBOZREVATEL reported, Politico noted that U.S. officials are increasingly focused on preparing the Ukrainian Armed Forces for a major spring counteroffensive to retake the territory. It is expected to begin in May and could unfold in two scenarios.
Only verified information on our Obozrevatel Telegram channel and Viber. Do not fall for fakes!