Trending:
SSU discloses details of attack on power substation in Belgorod region: drones hit the target precisely. Video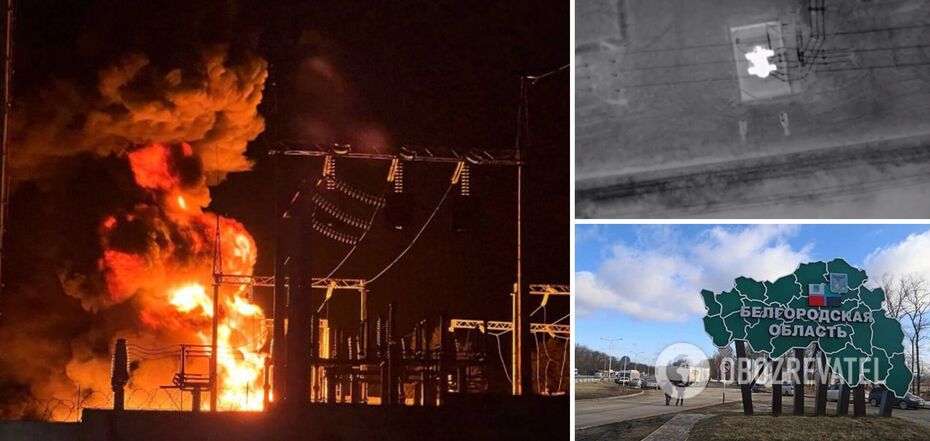 The SBU attacked a power substation in Belgorod Oblast that was supplying power to Russian military facilities. Illustrative collage
On October 13, Ukrainian drones attacked the Krasnaya Yaruga power substation in the Belgorod region of the Russian Federation. It was used to power, among other things, military facilities of the enemy army.
The attack was carried out by the Security Service of Ukraine. Sources in the special service told OBOZ.UA about it.
"While the Russian Ministry of Defense is telling how it "destroyed another Ukrainian drone" in the Belgorod region, our sources in the SSU provided a video of a successful attack on the Krasna Yaruga power substation. It was to this substation that, among other things, enemy military facilities were connected. The video shows how the drones accurately hit the target," the statement said.
The Service assured that the blackout, which the Russians dreamed of committing last year in Ukraine, will now be able to "taste" for themselves. Ukraine will respond to numerous Russian attacks on energy infrastructure facilities. So this is "a reality that is already on their (Russians' - Ed.) doorstep."
The SSU announced the successful attack on the power substation in Belgorod region against the backdrop of bravura morning statements by the Russian Defense Ministry about how Russian air defense allegedly shot down nearly 30 drones over two Russian regions, including Belgorod.
"Last night, an attempt by the Kyiv regime to carry out a terrorist attack by aircraft-type UAVs against targets in the Russian Federation was prevented. Twenty-seven Ukrainian unmanned aerial vehicles were intercepted by regular air defense systems, eighteen of which were destroyed in the air over Kursk region and two over Belgorod region," the Russian Defense Ministry said.
The Russian command did not want to mention the UAV that attacked the power substation in order not to spoil the statistics of the impressive "successes" of Russian air defense with such "trifles".
As a reminder, on September 29, Ukrainian drones attacked a substation in the Kursk region, to which Russian military facilities were connected. That attack was also organized by the SSU.
That night, the Kursk region complained about the drone attack . As a result of the attack, a transformer caught fire there, leaving five settlements without electricity.
The Russian Defense Ministry claimed that 11 drones were allegedly shot down by air defense forces. However, a video released by the SSU refuted these claims.
Only verified information is available on our Telegram channel OBOZ.UA and Viber. Do not fall for fakes!