Trending:
Shoigu boasts of "intercepting" Storm Shadow jets that hit Chongar Bridge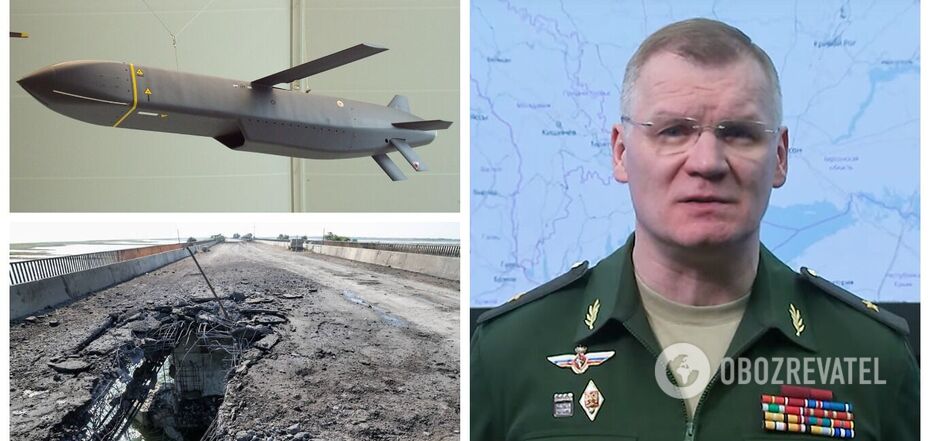 Shoigu boasts of ''intercepting'' Storm Shadow
The military and political leadership of the Russian terrorist country continues to attribute imaginary "successes" on the battlefield. Once again, the Russian Ministry of Defense boasted that the occupiers had allegedly "intercepted" a Storm Shadow cruise missile provided to the Ukrainian army by Western allies.
At the same time, a few hours ago, the invaders complained that it was the Storm Shadow missile that struck the Chongar Bridge. Russian propaganda media wrote about it.
Russian Defense Ministry spokesman Igor Konashenkov, who daily talks about the "destruction" of nearly hundreds of Western military vehicles in Ukraine, this time boasted of "intercepting" Storm Shadow.
Moreover, the war criminal decided to console the citizens of the Russian terrorist country with the number of "destroyed" missiles. According to the legend of the Russian Ministry of Defense, the occupiers "intercepted" five Storm Shadow cruise missiles and two HIMARS multiple-launch rockets during a day.
The Russian Defense Ministry also commented on another nighttime terrorist attack on the territory of Ukraine. Konashenkov called the shelling of civilian infrastructure, including private homes and civilians, "a long-range precision-guided attack on foreign-made weapons and military equipment. The war criminal concluded his latest propaganda delusion with the usual phrase for the Russian Ministry of Defense that "the designated target has been hit and the goal of the strike has been achieved".
that the bridge was struck at night, and added that there were allegedly no casualties .
Earlier, it was reported that the gauleiter of the occupied Kherson region Vladimir Saldo promised a "very serious response" for the attack on the Chongar bridge. He voiced a corresponding "warning", in addition, he threatened not only Ukraine, but also Moldova.
Recently, the terrorist country Russia announced that it had allegedly shot down two Storm Shadow missiles supplied to Ukraine by Britain. Military analyst Sean Bell questioned this claim because the Russians like to wishful thinking.
As OBOZREVATEL reported, the UK transferred several long-range Storm Shadow cruise missiles to Ukraine. After that, the citizens of Russia's terrorist state had another fit of hysteria over the fact that Ukraine is receiving military aid from allies to fight the occupiers.
Only verified information in our Telegram channel Obozrevatel and in Viber. Do not be fooled by fakes!