Trending:
Russia launched 25 cruise missiles at Ukraine, 23 were shot down by air defense forces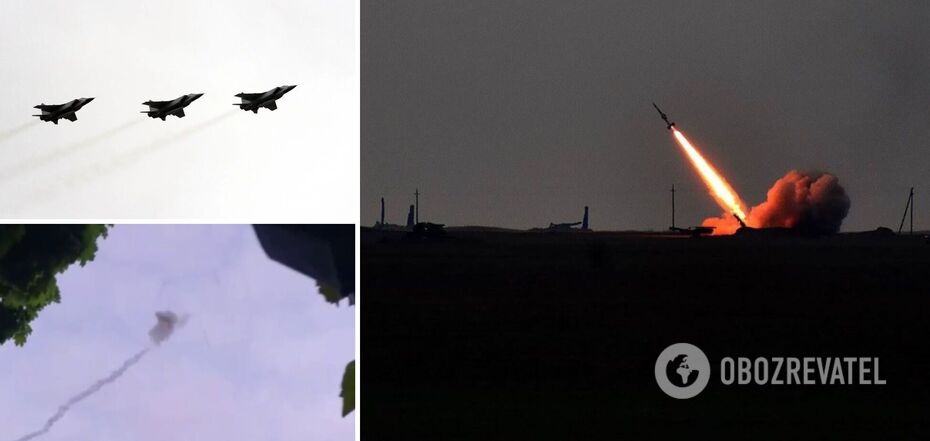 Ukraine's sky defenders disarmed another 23 Russian cruise missiles with which the aggressor country tried to attack our cities on the night of May 9 and Tuesday morning. During the large-scale air alert, 15 enemy targets were shot down over Kyiv.
Russian war criminals from strategic airplanes launched Kalibras and X-101/Kh-555. Successful air defense work was reported by the command of the Air Force of the AFU.
"On the night of the "sacred" May 9, the Rash*sts struck the territory of Ukraine with sea- and air-launched cruise missiles. Around 22:00 Monday, May 8, from carriers in the Black Sea and the enemy fired eight missiles "Kalibr", which aimed at the eastern regions of the country," the report said.
They noted that all eight Russian "Kalibrs" were destroyed by the forces and means of air defense of Air Command Vostok.
Already close to 04:00 on Tuesday, May 9, Russian terrorists launched 17 air-launched cruise missiles X-101/Kh-555 from strategic aviation aircraft - four Tu-95ms (Caspian Sea area).
The air defense forces of the Air Command Center destroyed 14 cruise missiles, while another one was destroyed in the area of responsibility of Air Command South. Thus, the defenders destroyed a total of 15 X-101/X-555 missiles in the morning.
"In total, in two waves of shelling of Ukraine on the night of May 9, 2023, the Russian occupiers launched 25 cruise missiles "Kalibr" and X-101/X-555. 23 of them were destroyed by the Air Defense Forces of the AFU in cooperation with the components of the Ukrainian Defense Forces. Let's hold the sky! Together - to victory!" - noted the command of the Air Forces.
Recall: during the Russian attack on Ukraine in the morning of May 9 in the airspace of Kiev defenders shot down a dozen and a half enemy missiles. As a result of the fall of their debris, there was a fire in the yard of a house in the Goloseevsky district, fortunately no one was injured.
Photos of the wreckage of Russian missiles shot down over Kyiv appeared on the net. An eight-meter crater was found in one of the capital's districts as a result of enemy shelling.
As reported by OBOZREVATEL, the defenders of the skies repelled an air attack by the Russian Federation, which was launched against Ukraine on the night of May 7 to 8. The air defense forces destroyed all 35 kamikaze drones of the Shahhed-131/136 type of Iranian production in the airspace of Kyiv.
Only verified information in our Telegram channels Obozrevatel and Viber. Do not be fooled by fakes!