Trending:
Russia kidnapped elderly people in Ukraine and forced them to donate blood for occupiers - Telegraph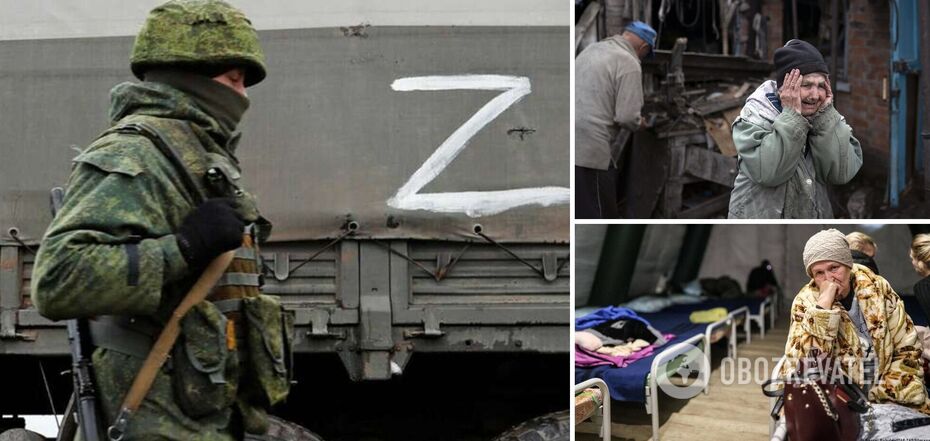 Russia kidnapped elderly people in Ukraine and forced them to donate blood for the occupiers
Russian dictator Vladimir Putin has been accused of illegal deportation and abuse of Ukrainian children. But these are not the only crimes committed by his regime. There have been cases of Russians kidnapping elderly, seriously ill and disabled people in Ukraine, abusing them and forcing them to donate blood for the occupiers.
This was reported by The Telegraph, whose journalists talked to elderly Ukrainians who were rescued and returned to their homeland. Those who managed to return to Ukraine told how they were abused.
Oleh Andreev, a 65-year-old paraplegic, was taken by the Russian occupiers when they entered his village in eastern Ukraine. He was found in a house that had been burnt down during an enemy bombardment - the man was lying next to his dead mother.
One of the Russian soldiers took away Mr Oleh's wheelchair to transport the "three hundredth". All of Andreev's documents were in the pocket of the wheelchair.
"They just left a paralysed man without identification documents," said Oleh's daughter.
The invaders took the man to occupied Makiivka, not allowing him to inform his daughter that he was still alive. He was taken to an "orphanage" where he was simply abused.
"They had nothing human about them," he said of the staff.
The man's toes were badly frostbitten after he had been lying on the stairs during the shelling in -10°C. But he was left without treatment. Only when the pain became too unbearable did the doctor agree to amputate his feet.
But the operation was unsuccessful and the bones in Oleh's feet were left exposed.
The only treatment he received was brilliant green and an outdated Soviet-era topical antiseptic used to treat small wounds. He was not given any painkillers.
Mr Andreev also said that he was abused by the staff, scolded and humiliated, and that the nurses made fun of him when he needed help to wash himself.
His head was shaved without his consent, and the staff took 70 per cent of his pension.
In the institution, Oleh Andreev met a 61-year-old Ukrainian man, Igor, who had also been illegally deported. During his stay in the institution, his legs went limp because he was not treated for sciatica.
Sometimes Oleh Andreev would give the little money he had left to an able-bodied patient who could find food for him and Igor.
"Several times he bought us strawberries and raspberries, can you imagine? I was so happy at that moment," said Mr Oleh.
After months of unsuccessful attempts to free her father, his daughter was able to contact Helping to Leave, which facilitated his escape and reunited the family in Kyiv.
Oleh Andreev's friend Igor was also able to escape thanks to this organisation. However, two weeks after his return, Igor died of illnesses related to the "treatment" he received at the facility.
Ellie Isaeva, who works for Helping to Leave, said that she helps families whose relatives are trapped without money or proper care in the Russian-occupied territories of Ukraine.
One of the elderly women she recently rescued said she was forced to donate blood for the occupiers. And she was not the only one.
Isayeva also recalled the story of another elderly woman whom her organisation tried to rescue from the occupied village of Hrakovo in Kharkiv region last summer. She had severe gangrene, but was not given proper treatment.
By the time help arrived, the woman began to hallucinate. The occupiers did not allow the charity's vehicle to take the woman to hospital, and she died.
Ms Isayeva also claims that many of the disabled patients with whom she worked were deprived of their Ukrainian passports by the occupiers and forcibly granted Russian citizenship.
As OBOZREVATEL previously reported, in July 2023, Russians abducted about 280 Ukrainian children from the temporarily occupied Antratsyt district in Luhansk region. The minors were taken to a "Cossack cadet corps" in the Russian republic of Kalmykia.
According to the mayor of Melitopol, Ivan Fedorov, the Russian invaders are going to take about 300 minors from the Berdiansk district of Zaporizhzhia region. They are being transported deep into Russia - to Chuvashia.
Only verified information is available in our Obozrevatel Telegram channel and Viber. Do not fall for fakes!