Trending:
Russia is moving forces to the Bakhmut direction and has launched an offensive on Kupyansk: Syrskyi spoke about the situation in the east. Photo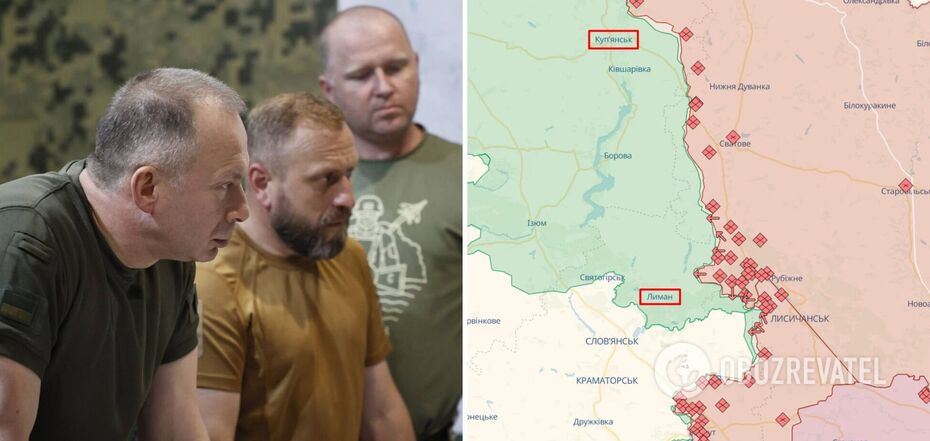 Occupants aim to defeat Ukrainian troops near Kupyansk
The operational situation in the east remains difficult. Russian troops are actively deploying additional forces and equipment to the Bakhmut direction and have launched an offensive in the Kupyansk direction, aiming to defeat Ukrainian troops in the Kupyansk area.
This was stated by the Commander of the Land Forces of the Armed Forces of Ukraine, Colonel-General Oleksandr Syrskyi on 17 July. "In such difficult conditions, I visited the combat brigades of our grouping and met with unit commanders to adjust our plans and resolve problematic issues on the spot," he said.
According to Syrsky, the occupiers are sending mainly units of the Russian Airborne Forces to the Bakhmut area in an attempt to stop the Ukrainian offensive.
At the same time, the enemy launched an offensive in the Kupyansk direction, aiming to defeat Ukrainian positions near Kupyansk and continue the offensive deep into our combat formations.
Syrskyi said he met with the defenders of each of the brigades at the frontline and presented the best soldiers with awards, valuable gifts and certificates of cash bonuses.
"Together with the commanders, we worked out and approved all the necessary decisions to stabilise the situation in the Lyman sector. All the commanders understand the importance of the tasks set to destroy the enemy, continue offensive actions and keep the operational initiative on our side," said the commander.