Russia has used almost 20 "Kinzhal" cruise missiles against Ukraine: how many missiles does the aggressor have left?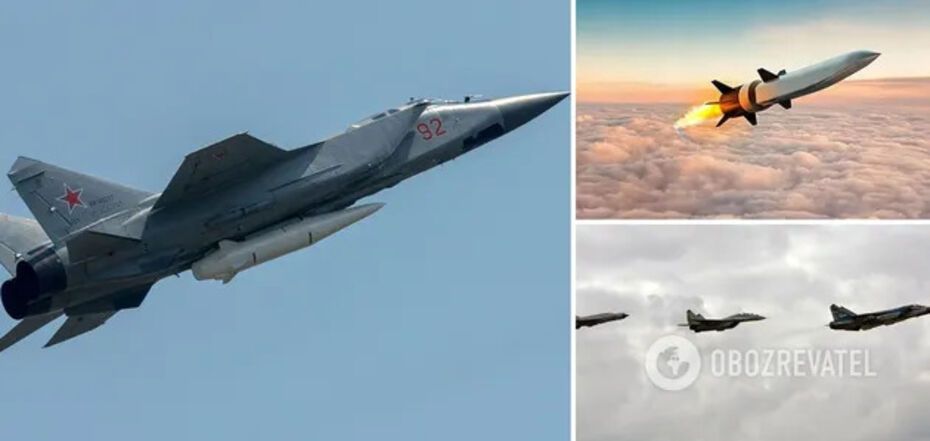 Russia has about 50 "Kinzhal" cruise missiles left
The Russian occupiers don't have large stocks of hypersonic "Kinzhal" missiles type, which are carried by MiG-31K aircraft. The army of the aggressor state may currently have more than 40 such missiles in service. They cannot be shot down by air defense systems available in Ukraine.
Andrii Yusov, a representative of the Main Directorate of Intelligence of the Ministry of Defence of Ukraine, said this during the "United News" telethon on Friday, March 10. For comparison, the Russians have thousands of missiles for the S-300 air defense system, and their enemy spares no effort to strike Ukrainian cities.
"If we're talking about "Kinzhal" missiles, we're talking about dozens. Russia does not have as many of these weapons as it does outdated S-300 systems, of which they have thousands. We are talking about, let's say, more than 40," Yusov said.
At the same time, Yurii Ihnat, a spokesman for the Ukrainian Air Force, said that since the beginning of the full-scale invasion, Russia had fired up to 20 "Kinzhal" missiles at Ukraine. He noted that it is currently impossible to say for sure whether the occupiers used as many as six "Kinzhal" during the attack on Ukraine on March 9. To determine the type of air targets used by the occupiers, an examination is needed.
"Now, according to the Main Directorate of Intelligence, the Russians have just over fifty such missiles. And if you subtract these 6 [launched during the massive attack on March 9 - Ed.], it is even less," Ihnat said.
He added that Russia couldn't produce new "Kinzhal" missiles quickly.
It should be noted that the "Kinzhal" missiles are much faster than the Kalibr cruise missiles and Iskander ballistic missiles, they can fly at hypersonic speeds, which is 10 times higher than the speed of sound, and can maneuver in flight. The range of the missile is 2,000 kilometers, and if launched from an airplane - 3,000 kilometers. These missiles are capable of hitting both stationary objects and surface targets, such as aircraft carriers, cruisers, destroyers, and frigates.
As OBOZREVATEL reported, a representative of the Main Directorate of Intelligence, Andrii Yusov, noted that Russia has "critically low" stocks of many types of missile weapons. In particular, the occupiers have only 7% of the number of "Kalibr" missiles left at the beginning of the invasion.
Only verified information on our Telegram Obozrevatel channel and Viber. Do not fall for fakes!