Trending:
Russia has begun to redeploy ships closer to Novorossiysk: Gumenyuk says there is a risk of shelling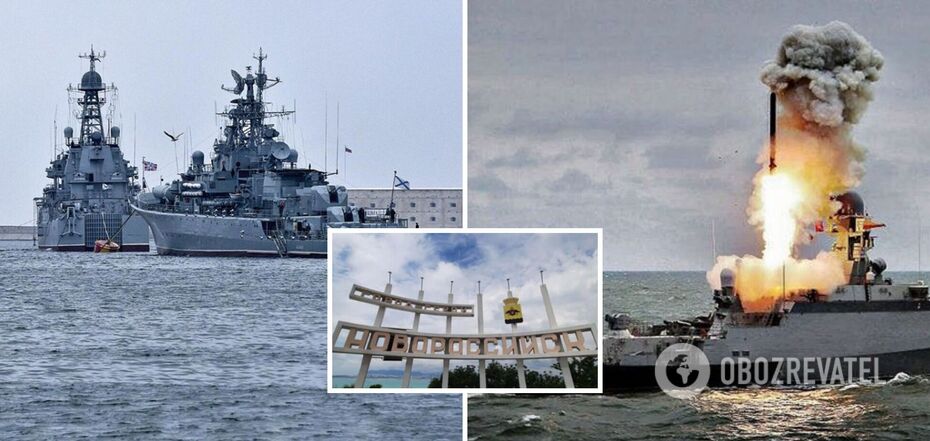 Russia is moving its ships in the Black Sea closer to Novorossiysk. Source: Screenshot.
After a series of successful attacks on Russian ships by Ukrainian soldiers, the Russians began to redeploy their vessels closer to Novorossiysk. However, as the experience of the large amphibious assault ship Olenegorskiy Gornyak shows, they will not be completely safe there either.
At the same time, the Russians keep 12 ships in the Black Sea, including a Kalibr missile submarine. Natalia Gumenyuk, head of the Joint Coordination Press Center of the Southern Defense Forces, said this during a telethon.
According to her, despite the movement of Russian ships closer to the Russian coast, the threat of missile attacks from the sea has not disappeared.
"We must remember that the threat is quite high. But the relocation of the Black Sea Fleet is really aimed closer to Novorossiysk, although their memory is short. "The Olenegorsk Pitman was located there, so it is not such a safe distance," said Humeniuk.
According to her, as of October 15, the ship grouping in the Black Sea consists of 12 units. They are located in the waters from the eastern coast of Crimea to Novorossiysk. One more ship is kept by the Russians in the Sea of Azov.
Among the ships in the Black Sea, one missile carrier was spotted.
"There is a missile carrier among the Black Sea grouping. It is underwater and can be equipped with up to 4 Kalibr missiles," said Humeniuk.
As a reminder, the SSU and the Navy recently hit the Russian ship Pavel Derzhavin near Sevastopol. The tugboat that was going to rescue it was also damaged.
The SSU disclosed the details of the operation to destroy Russian ships in Crimea: according to sources in the special service, the attacks were carried out using Sea Baby drones with experimental weapons. The "experiment," judging by the new losses of the Russian fleet, was successful.
And in September, the Russians lost a ship and a submarine that were in dry dock at one of the ship repair plants in the temporarily occupied Sevastopol.
Only verified information is available on our Telegram channel OBOZ.UA and Viber. Do not fall for fakes!