Trending:
Putin's compadre Medvedchuk started talking about the "genocide of Donbass" and the nuclear apocalypse: he wants a tribunal for Zelensky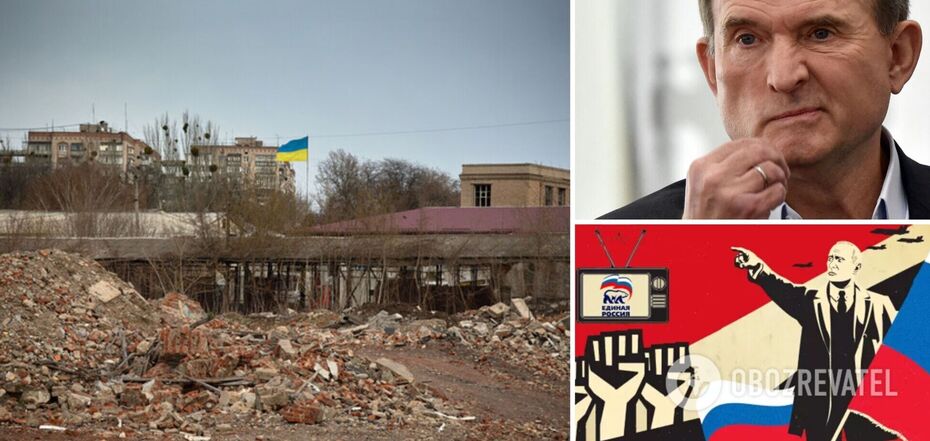 Medvedchuk talks about the "genocide of Donbass" and the nuclear apocalypse
Accused of treason, the head of the banned party Opposition Platform - For Life Viktor Medvedchuk, которого по обмену пленными who was sent to Russia, in a prisoner exchange, gave out "gems" about alleged Nazism in Ukraine. He spoke of the "genocide of Donbass" and the so-called nuclear apocalypse "imposed by the West".
In defense of his cousin, the Russian dictator Vladimir Putin, the traitor demanded a tribunal for Ukrainian President Vladimir Zelensky. The scandalous politician described such theses in an article for the Russian mass media.
In the style of Russian propaganda, the traitor spoke about the "genocide" unleashed against the residents of Donetsk and Luhansk regions by the alleged Ukrainian authorities. He compared their actions to the crime "committed by the Nazis against the Jewish population of the Reich.
"After Zelensky came to power, the regime stopped hiding its Nazi essence and started reproducing Hitler's actions," Medvedchuk issued.
He cynically claims that it was Ukraine, together with its allies, that created "all the conditions" to involve "poor" Russia in the so-called armed conflict.
In his opinion, the trial of the Ukrainian leader will help to overcome this and "save the world from a nuclear war. Although nuclear threats are constantly heard only from Russian President Putin, whose arrest warrant has already been issued by the International Criminal Court (ICC) in The Hague.
"Such a trial will prevent the reincarnation of Nazism in other countries. Only by joint efforts, by curing Ukraine from the 'brown plague' of Nazism, by drawing conclusions from its example, and by punishing the perpetrators, will humanity be able to avoid a nuclear apocalypse," Medvedchuk said.
The former deputy of the Verkhovna Rada argues that the countries of the world should "unite for the sake of the trial" of the Ukrainian regime.
He believes that it should follow the example of the Nuremberg International Military Tribunal. According to Medvedchuk's moronic convictions, this would help to prevent "a repeat of the tragedy of Germany of the last century.
Putin's compadre also said that, he said that between 2005 and 2022, Western politicians and special services had "transformed the mass consciousness of Ukrainians. He believes that the minds of Ukrainian citizens were "turned into an obedient tool" to allegedly achieve their "geopolitical ambitions" against Russia.
As reported by OBOZREVATEL, earlier Medvedchuk complained to Russian propagandists about the "suffering", he endured after being detained in Ukraine in April 2022. On the air of RosTB, the traitor called the day of his detention "the worst day of his life.
Only verified information in our Telegram-channel Obozrevatel and in Viber. Do not be fooled by fakes!