Trending:
"Putin hasn't lost yet": Duda pointed to threats from Russia and explained why one shouldn't laugh at tanks from the 60s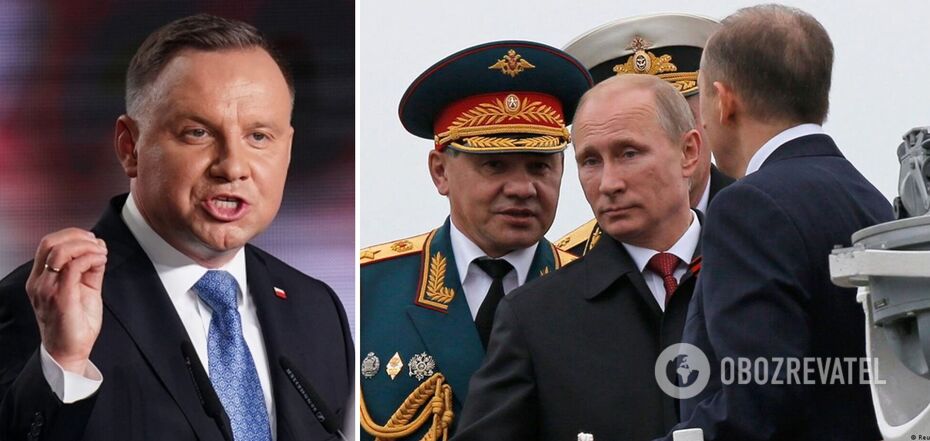 Duda pointed to threats from Russia
Putin has not yet lost the war. The Russian Federation far outnumbers Ukraine in manpower, and human life means nothing to the Russian dictator. And you can laugh all you want at the old tanks the Russian army is fighting with, but each of them weighs up to 60 tons and simply crushes people with its weight, regardless of the fact that it is not modern.
Polish President Andrzej Duda said this in an interview with Dow Jones CEO and publisher of The Wall Street Journal, Almar Latoury. The Polish leader pointed to the threats posed by Russia.
"Today they say that Vladimir Putin has lost the war, and his defeat is that Finland has joined NATO... Ladies and gentlemen, Vladimir Putin has not lost a war. I hope he will lose one. And now we have a situation when Russian wheels are pressing on Ukraine, hundreds of people are dying every day on the frontlines - over 100 million Russians and less than 40 million Ukrainians. This difference alone shows who has the advantage here: For Russians a human life means nothing, for Ukrainians every life is worth its weight in gold. This is a different culture," the President of Poland said.
Duda also reminded that Russia is a nuclear state and has huge weapons depots.
"Russia is a nuclear state, it has gigantic stockpiles of weapons - so what, if you laugh, that it rolls out tanks from the 1960s, because each tank weighs 50-60 tons. If it moves - it crushes, no matter that it is not modern, "- said the President.
The Polish president stressed that only then will it be possible to say that Putin has lost the war when the Russian army is pushed back from Ukraine's internationally recognized borders.
"Then we will say that they have gained nothing as a result of this war, that their plan to enslave Ukraine has failed, their imperial ambitions have been punished, they have lost hundreds of thousands of people," he said.
Today, however, this cannot yet be said, and the war is in full swing. Russia is mobilizing more and more, the Russian economy is going into war mode. The Kremlin, on the other hand, will be able to convince Russians with its propaganda to tighten their belts, and they will be proud that "Russia is great," Duda said, even when hungry.
"Today our common responsibility as a community of the West, of which Poland is a part, is to support Ukraine," Andrzej Duda stressed.
The Polish president also noted that Russian imperialism is now reviving, and if Russia's aggression is not confronted, it will have terrible consequences.
Duda recalled what Russian imperialism did to Europe and to Poland in particular. On Stalin's orders, Polish intellectuals were exterminated and Polish prisoners of war were murdered.
"Our families remember well that Russian captivity ends with a bullet in the back of the head. That the Russians shot prisoners like they shot Polish officers at Katyn to kill the Polish intelligentsia and liquidate the Polish nation. They killed 20,000 Poles with a shot to the back of the head, Kharkov, etc. This was Stalin's order. Everyone knows that the Russians rape, pillage, and destroy," Duda said.
Andrzej Duda also recalled the lessons of German and French history and stressed that only a Ukrainian victory over Russia could ensure the security of European countries.
"We know that only a victory over Russia will make us safe - the Baltic states and Poland in the first place, as well as the countries of Western Europe. I remind our German neighbors that the Russians were in Berlin. I remind our colleagues from France that the Russians were also in Paris at the time of Napoleon," the Polish president said.
As OBOZREVATEL reported, Polish President Andrzej Duda said earlier that the fate of the entire civilized world is now decided in Ukraine.
Only verified information in our Telegram channel Obozrevatel and in Viber . Do not be fooled by fakes!