Trending:
Piles of scrap metal and smoke: archival footage from the legendary Chornobaivka. Photos and videos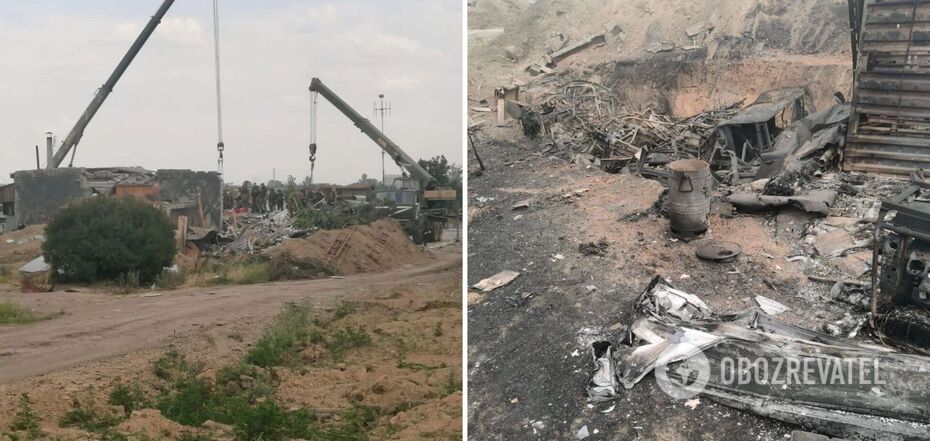 The consequences of powerful fire of the Armed Forces of Ukraine are demonstrated
The legendary Chornobaivka in the Kherson region was under Russian occupation for more than 8 months. During this time, the settlement went down in history as a place where the invaders regularly got "kicked in the teeth" and suffered significant losses.
The network showed archival footage from the Kherson region settlement, which became known for numerous explosions. The corresponding video and photos were published by Russian media.
The footage shows the damaged civilian infrastructure, where the Russian occupiers hoped to hide from our defenders.
Piles of scrap metal left over from enemy equipment are scattered around.
The video shows the consequences of the powerful fire of the Armed Forces of Ukraine.
It is worth noting that every time after a successful strike by the Ukrainian Armed Forces on the airfield in Chornobaivka, the occupiers brought their military equipment back there. This illogical behavior of the "second army of the world" led to a large number of memes.
For the first time, Russian positions in Chornobaivka were def eated on February 27, 2022. After the Ukrainian Armed Forces attacked, the occupiers raked up the remains of the burned-out equipment and put new helicopters in the same place.
On March 7, the Ukrainians destroyed about 30 helicopters at the site, and on March 16, it became known that seven more Russian army combat helicopters had been destroyed.
On March 18, the enemy again suffered heavy losses in Chornobaivka. This time, the command post of the 8th Combined Arms Army of the Southern Military District of the Russian Federation was destroyed along with the army commander, and airplanes and helicopters were destroyed and damaged.
On the night of March 19, the Armed Forces of Ukraine for the sixth time destroyed the positions of the Russian occupiers at the airfield in Chornobaivka near Kherson.
We also wrote about the seventh, eighth and ninth defeats of the enemy in Chornobaivka.
On March 27, it became known that Ukraine's defenders defeated the Russian occupiers for the eleventh time in Chornobaivka, Kherson region. In addition, for the fourth time, the Ukrainian Armed Forces successfully attacked enemy forces at the Melitopol airfield. Soon, the score changed once again not in favor of the Russians - read about Chornobaivka 12:0.
After that, there was Chornobaivka 13 (and then 14). Then the occupiers were hit at the airfield for the 15th and 16th time.
As reported by OBOZ.UA, President Volodymyr Zelenskyy said that Chornobaivka in the Kherson region would go down in the history of wars as an example of the ineptitude of the Russian command.
Only verified information on our Telegram channel OBOZ.UA and Viber. Do not fall for fakes!